01.12.2012 | Original investigation | Ausgabe 1/2012 Open Access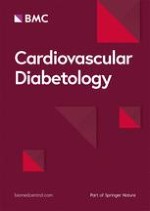 Heterogeneous behavior of lipids according to HbA1c levels undermines the plausibility of metabolic syndrome in type 1 diabetes: data from a nationwide multicenter survey
Zeitschrift:
Autoren:

Fernando MA Giuffrida, Alexis D Guedes, Eloa R Rocco, Denise B Mory, Patricia Dualib, Odelisa S Matos, Reine M Chaves-Fonseca, Roberta A Cobas, Carlos Antonio Negrato, Marilia B Gomes, Sergio A Dib, Brazilian Type 1 Diabetes Study Group (BrazDiab1SG)
Wichtige Hinweise
Electronic supplementary material
The online version of this article (doi:
10.​1186/​1475-2840-11-156
) contains supplementary material, which is available to authorized users.
Competing interests
All authors declare that they have no competing interests.
Authors' contributions
FMAG conceived the study, performed the statistical analyses and drafted the manuscript; ADG, PD, OSM, RMCF, RC, CAN, and MBG collected data on individuals with type 1 diabetes and provided critical appraisal during the drafting of the manuscript; ERR and DBM collected data on non-diabetic individuals and provided critical appraisal during the drafting of the manuscript; SAD conceived the study, drafted the manuscript, collected data on individuals with type 1 diabetes, supervised the project, and is the guarantor of this study. All authors read and approved the final manuscript.
Abstract
Background
Cardiovascular risk factors (CVRF) may cluster in type 1 diabetes, analogously to the metabolic syndrome described in type 2 diabetes. The threshold of HbA1c above which lipid variables start changing behavior is unclear. This study aims to 1) assess the behavior of dyslipidemia according to HbA1c values; 2) detect a threshold of HbA1c beyond which lipids start to change and 3) compare the clustering of lipids and other non-lipid CVRF among strata of HbA1c individuals with type 1 diabetes.
Methods
Effects of HbA1c quintiles (1st: ≤7.4%; 2nd: 7.5-8.5%; 3rd: 8.6-9.6%; 4th: 9.7-11.3%; and 5th: >11.5%) and covariates (gender, BMI, blood pressure, insulin daily dose, lipids, statin use, diabetes duration) on dyslipidemia were studied in 1275 individuals from the Brazilian multi-centre type 1 diabetes study and 171 normal controls.
Results
Body size and blood pressure were not correlated to lipids and glycemic control. OR (99% CI) for high-LDL were 2.07 (1.21-3.54) and 2.51 (1.46-4.31), in the 4th and 5th HbA1c quintiles, respectively. Hypertriglyceridemia increased in the 5th quintile of HbA1c, OR 2.76 (1.20-6.37). OR of low-HDL-cholesterol were 0.48 (0.24-0.98) and 0.41 (0.19-0.85) in the 3rd and 4th HbA1c quintiles, respectively. HDL-cholesterol correlated positively (0.437) with HbA1c in the 3rd quintile. HDL-cholesterol and insulin dose correlated inversely in all levels of glycemic control.
Conclusions
Correlation of serum lipids with HbA1c is heterogeneous across the spectrum of glycemic control in type 1 diabetes individuals. LDL-cholesterol and triglycerides worsened alongside HbA1c with distinct thresholds. Association of lower HDL-cholesterol with higher daily insulin dose is consistent and it points out to a role of exogenous hyperinsulinemia in the pathophysiology of the CVRF clustering. These data suggest diverse pathophysiological processes depending on HbA1c, refuting a unified explanation for cardiovascular risk in type 1 diabetes.