01.06.2014 | Original Article | Ausgabe 6/2014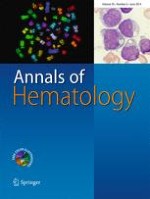 Histone deacetylase inhibitor prevents cell growth in Burkitt's lymphoma by regulating PI3K/Akt pathways and leads to upregulation of miR-143, miR-145, and miR-101
Zeitschrift:
Autoren:

Ana Carolina dos Santos Ferreira, Marcela Cristina Robaina, Lídia Maria Magalhães de Rezende, Patricia Severino, Claudete Esteves Klumb
Wichtige Hinweise
Electronic supplementary material
The online version of this article (doi:
10.​1007/​s00277-014-2021-4
) contains supplementary material, which is available to authorized users.
Abstract
Burkitt lymphoma (BL) is an aggressive B-cell lymphoma more common in children comprising one third of pediatric non-Hodgkin lymphoma cases. The recent discovery in BL pathogenesis highlighted the activation of PI3K pathway in cooperation with Myc in the development of BL. In this study, we demonstrated that PI3K/Akt pathway is a target to histone deacetylase inhibitor (HDACi) in BL cells. The combination of HDACi (sodium butyrate, NaB) and chemotherapy (VP-16) inhibited 51 % of the proliferation and enhanced the blockage of the cell cycle progression at G2/M with a concurrent decrease in the S phase. Microarray profiling showed a synergistic action of NaB/VP-16 combination through the differential regulation of 1,413 genes. Comparing VP-16 treatment with the NaB/VP-16 combination, 318 genes were deregulated: 250 genes were downregulated, and 68 were upregulated when compared with untreated cells. Among these genes, six (CDKN1A, CCND1, FAS, CHEK2, MDM4, and SESN2) belong to the p53-signaling pathway. The activation of this signaling pathway is usually induced by stress signals and ultimately leads to cell cycle arrest. Besides, the inhibition of the cell growth was related to reduced Akt phosphorylation, and decrease of c-Myc protein expression by about 60 % (
p
 ≤ 0.005). Moreover, HDACi enhanced miR-101, miR-143, and miR-145 levels in BL cell line, which were inversely associated with the levels of miR-101, miR-143, and miR-145 found to be extremely downregulated in the sample of BL patients. We highlight the fact that effective combinations of HDACis with other target drugs could improve BL therapy in the future.