01.12.2014 | Research | Ausgabe 1/2014 Open Access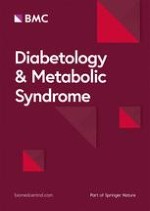 How can waist circumference predict the body composition?
Zeitschrift:
Autoren:

Yumi Matsushita, Toru Nakagawa, Michihiro Shinohara, Shuichiro Yamamoto, Yoshihiko Takahashi, Tetsuya Mizoue, Tetsuji Yokoyama, Mitsuhiko Noda
Wichtige Hinweise
Electronic supplementary material
The online version of this article (doi:
10.​1186/​1758-5996-6-11
) contains supplementary material, which is available to authorized users.
Competing interest
The authors declare that they have no competing interest.
Authors' contributions
The principal investigator is YM, National Center for Global Health and Medicine. YM takes full responsibility for the work as a whole, including the study design, access to data, and the decision to submit and publish the manuscript. YM, TN, MS, and SY researched the data. YM, TN, YT, TM, TY, and MN contributed to discussions. YM wrote the manuscript. YM, TN, SY, TM, TY, and MN reviewed and edited the manuscript. All authors read and approved the final manuscript.
Abstract
Background
Waist circumference (WC) is used as a risk assessment for metabolic syndrome, diabetes, and cardiovascular disease (CVD). WC consists of visceral fat area (VFA), subcutaneous fat area (SFA), muscle, intramuscular fat, viscera, and bone. Each component of the WC may differ between the sexes and generations, even if they have the same WC. However, this has not been measured in an epidemiological study.
Methods
Between 2004 to 2009, employees and their spouses working at a Japanese company underwent a health examination after more than 12 hours of fasting. We analyzed the data of 11,570 subjects (9,874 men and 1,696 women), aged from 20 to 76 years, who underwent a computed tomography (CT) examination. VFA, SFA, WC, muscle, intramuscular fat, viscera, and bone were measured using a CT scanner. We conducted stratified analyses by generational age, and calculated the Pearson's correlation coefficients between the VFA and WC, BMI, and VFA plus SFA. To establish the equations for converting the WC to the corresponding VFA and VFA plus SFA, linear regression analyses were used to obtain the regression coefficients and intercepts.
Results
As the generations increased in age, the VFA tended to increase. However, the differences in the WC values of each generation did not coincide with the VFA values in men (r = -0.275 and 0.979 for men and women, n = 5 generations), but did correlate with the difference in the sum of the VFA plus SFA for both sexes (r = 0.915 and 0.996 for men and women, n = 5 generations). Older generations had lower WC values when they had the same VFA values as the younger generations.
Conclusions
The WC value corresponding to a certain VFA value differed significantly by generational age. Thus, revised optimal cutoff values for the WC may be needed for each generation.