05.06.2019 | Original Research | Ausgabe 8/2019 Open Access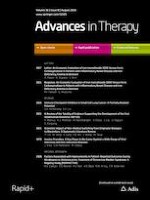 Impact of Online Prescription Management Systems on Biologic Treatment Initiation
Zeitschrift:
Autoren:

Jason E. Hawkes, Manish Mittal, Matthew Davis, Diana Brixner
Wichtige Hinweise
Enhanced Digital Features
Abstract
Introduction
Pharmaceutical firms have begun offering online prescription management systems to facilitate prescription processing. This study evaluated the impact of the HUMIRA Complete Pro (HCPro) online prescription management system on the rate of abandonment and the time to first fill for patients prescribed adalimumab (ADA). A retrospective cohort analysis of patients initiating ADA treatment with or without use of the HCPro online prescription processing system was used to evaluate the impact of HCPro on treatment initiation outcomes.
Methods
Patient-level data for patients with an ADA prescription processed through HCPro were mapped to Symphony Health claims for patients initiating ADA between January 2012 and January 2015. The sample included patients aged ≥ 18 years with a diagnosis of Crohn's disease, ulcerative colitis, rheumatoid arthritis, psoriasis, psoriatic arthritis, or ankylosing spondylitis who had data available 3 months before and after their first ADA claim (index date). Baseline characteristics, prescription abandonment rate, and time-to-first-prescription fill were compared between patients with a prescription processed through HCPro (HCPro cohort) and those without (non-HCPro cohort). The odds of abandonment were evaluated in the 3 months following the index date using a multivariate logistic regression model.
Results
The study included 24,767 patients (535 HCPro; 24,232 non-HCPro). HCPro patients had a greater frequency of initiation at a specialty pharmacy (66% vs. 56%;
P
 < 0.001) and enrollment in AbbVie's patient support program (71% vs. 51%;
P
 < 0.001) as well as a lower copay for ADA ($206 vs. $265;
P
 = 0.011). HCPro patients had a lower abandonment rate (6.4% vs. 13.9%;
P
 < 0.001) and reduced days to prescription fill (7.0 vs. 14.4;
P
 < 0.001). After controlling for baseline characteristics, abandonment odds were 43% lower for patients using HCPro (odds ratio = 0.57;
P
 = 0.004).
Conclusion
Initiating ADA treatment with an online prescription management system (HCPro) significantly reduces the odds of abandonment and time to first prescription fill.
Funding
AbbVie Inc., Chicago, USA.