01.12.2012 | Original investigation | Ausgabe 1/2012 Open Access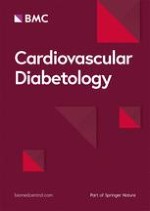 Improved resistance to ischemia and reperfusion, but impaired protection by ischemic preconditioning in patients with type 1 diabetes mellitus: a pilot study
Zeitschrift:
Autoren:

Richard Engbersen, Niels P Riksen, Marc J Mol, Bert Bravenboer, Otto C Boerman, Patrick Meijer, Wim JG Oyen, Cees Tack, Gerard A Rongen, Paul Smits
Wichtige Hinweise
Electronic supplementary material
The online version of this article (doi:
10.​1186/​1475-2840-11-124
) contains supplementary material, which is available to authorized users.
Competing interests
The authors declare that they have no competing interests.
Authors' contributions
RE participated in the design of the study, carried out the study, performed the analyses, and drafted the manuscript. NPR participated in the analyses of the results, and drafted the manuscript. MJM and BB helped in the patient recruitment and critically reviewed the manuscript. PM participated in performing the experiments. OCB and WJGO performed the analyses of the nuclear studies and critically reviewed the manuscript. PS, GAR, and CT participated in the design of the study and critical review of the manuscript. All authors read and approved the final manuscript.
Abstract
Background
In patients with type 1 diabetes mellitus (T1DM), cardiovascular events are more common, and the outcome following a myocardial infarction is worse than in nondiabetic subjects. Ischemic or pharmacological preconditioning are powerful interventions to reduce ischemia reperfusion (IR)-injury. However, animal studies have shown that the presence of T1DM can limit these protective effects. Therefore, we aimed to study the protective effect of ischemic preconditioning in patients with T1DM, and to explore the role of plasma insulin and glucose on this effect.
Methods
99mTechnetium-annexin A5 scintigraphy was used to detect IR-injury. IR-injury was induced by unilateral forearm ischemic exercise. At reperfusion, Tc-annexin A5 was administered, and IR-injury was expressed as the percentage difference in radioactivity in the thenar muscle between the experimental and control arm 4 hours after reperfusion. 15 patients with T1DM were compared to 21 nondiabetic controls. The patients were studied twice, with or without ischemic preconditioning (10 minutes of forearm ischemia and reperfusion). Patients were studied in either normoglycemic hyperinsulinemic conditions (n = 8) or during hyperglycemic normoinsulinemia (n = 7). The controls were studied once either with (n = 8) or without (n = 13) ischemic preconditioning.
Results
Patients with diabetes were less vulnerable to IR-injury than nondiabetic healthy controls (12.8 ± 2.4 and 11.0 ± 5.1% versus 27.5 ± 4.5% in controls; p < 0.05). The efficacy of ischemic preconditioning to reduce IR-injury, however, was lower in the patients and was even completely abolished during hyperglycemia.
Conclusions
Patients with T1DM are more tolerant to forearm IR than healthy controls in our experimental model. The efficacy of ischemic preconditioning to limit IR-injury, however, is reduced by acute hyperglycemia.
Trial Registration
The study is registered at www.clinicaltrials.gov (NCT00184821)