01.12.2019 | Research article | Ausgabe 1/2019 Open Access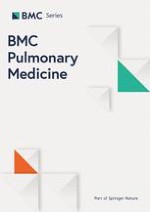 Increased extracellular vesicle miRNA-466 family in the bronchoalveolar lavage fluid as a precipitating factor of ARDS
Zeitschrift:
Autoren:

Sotaro Shikano, Yasuhiro Gon, Shuichiro Maruoka, Tetsuo Shimizu, Yutaka Kozu, Yuko Iida, Mari Hikichi, Mai Takahashi, Shinichi Okamoto, Kota Tsuya, Asami Fukuda, Kenji Mizumura, Shu Hashimoto
Wichtige Hinweise
Sotaro Shikano and Yasuhiro Gon contributed equally to this work.
Publisher's Note
Springer Nature remains neutral with regard to jurisdictional claims in published maps and institutional affiliations.
Abstract
Background
Acute respiratory distress syndrome (ARDS) is a life-threatening disease; however, its treatment has not yet been fully established. The progression of ARDS is considered to be mediated by altered intercellular communication between immune and structural cells in the lung. One of several factors involved in intercellular communication is the extracellular vesicle (EV). They act as carriers of functional content such as RNA molecules, proteins, and lipids and deliver cargo from donor to recipient cells. EVs have been reported to regulate the nucleotide-binding oligomerization like receptor 3 (NLRP3) inflammasome. This has been identified as the cellular machinery responsible for activating inflammatory processes, a key component responsible for the pathogenesis of ARDS.
Methods
Here, we provide comprehensive genetic analysis of microRNAs (miRNAs) in EVs, demonstrating increased expression of the miRNA-466 family in the bronchoalveolar lavage fluid of a mouse ARDS model.
Results
Transfection of bone marrow-derived macrophages (BMDMs) with miRNA-466 g and 466 m-5p resulted in increased interleukin-1 beta (IL-1β) release after LPS and ATP treatment, which is an established in vitro model of NLRP3 inflammasome activation. Moreover, LPS-induced pro-IL-1β expression was accelerated by miRNA-466 g and 466 m-5p in BMDMs.
Conclusions
These findings imply that miRNA-466 family molecules are secreted via EVs into the airways in an ARDS model, and this exacerbates inflammation through the NLRP3 inflammasome. Our results suggest that the NLRP3 inflammasome pathway, regulated by extracellular vesicle miRNA, could act as a therapeutic target for ARDS.