01.12.2015 | Research article | Ausgabe 1/2015 Open Access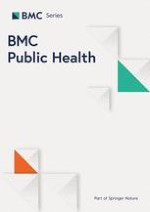 Individual and collective empowerment and associated factors among Brazilian adults: a cross-sectional study
Zeitschrift:
Autoren:

Marcia Fatima Soares, Rachel Conceição Ferreira, Camila Alessandra Pazzini, Denise Vieira Travassos, Saul Martins Paiva, Efigênia Ferreira e Ferreira
Wichtige Hinweise
Competing interests
The authors declare that they have no competing interests.
Authors' contributions
MFS and EFF were involved in the design; MFS, EFF, CAP and SMP were involved in the collection of data and supervision; MFS, EFF and SMP were involved in the idea framing of the study; RCF and DVT were involved in the processing and analysis of the data; MFS, EFF and RCF wrote the manuscript and interpreted the results; MFS and EFF coordinated the development of the paper and substantially revised the manuscript. All authors read and approved the final manuscript.
Abstract
Background
The empowerment embedded in the health area is defined as a process that can facilitate control over the determinants of health of individuals and population as a way to improve health. The aim of this study was to verify the association between individual and collective empowerment with sociodemographic conditions, lifestyle, health conditions and quality of life.
Method
A cross-sectional analytical study was conducted with 1150 individuals (aged 35 to 44 years). The empowerment was determined by questions from the Integrated Questionnaire for the Measurement of Social Capital (IQ-MSC). The quality of life was measured using the WHOQOL (World Health Organization Quality of Life-Bref). Lifestyle and health conditions were obtained by adapted questions from the Fantastic Lifestyle Questionnaire The DMFT Index was incorporated in the health conditions questions. Logistic regression or multinomial regression was performed.
Results
The practice of physical activity was related to individual (OR: 2.70) and collective (OR: 1.57) empowerment. Regarding individual empowerment, people with higher education level (5–11 years – OR: 3.46 and ≥12 years – OR: 4.41), who felt more able to deal with stress (OR:3.76), who presented a high score on quality of life (psychological domain) (OR:1.23) and that smoked (OR:1.49) were more likely to feel able to make decisions and participate in community activities. The increase in the DMFT Index represented less chance of individuals to feel more able to make decisions (OR: 0.96). Regarding the collective empowerment, being religious (catholic) (OR: 1.82), do not drink or drink just a little (OR: 1.66 and 2.28, respectively), and increased score of overall quality of life (OR: 1.08) were more likely to report that people cooperate to solve a problem in their community.
Conclusion
The two approaches to empowerment, the individual and collective are connected, and the physical activity showed to be a good strategy for the empowerment construction.