01.12.2017 | Research | Ausgabe 1/2017 Open Access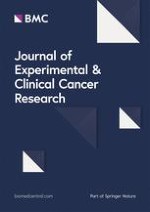 Inhibition of autophagy enhances the selective anti-cancer activity of tigecycline to overcome drug resistance in the treatment of chronic myeloid leukemia
Zeitschrift:
Autoren:

Ziyuan Lu, Na Xu, Bolin He, Chengyun Pan, Yangqing Lan, Hongsheng Zhou, Xiaoli Liu
Abstract
Background
Drug resistance and disease progression are still the major obstacles in the treatment of chronic myeloid leukemia (CML). Increasing researches have demonstrated that autophagy becomes activated when cancer cells are subjected to chemotherapy, which is involved in the development of drug resistance. Therefore, combining chemotherapy with inhibition of autophagy serves as a new strategy in cancer treatment. Tigecycline is an antibiotic that has received attention as an anti-cancer agent due to its inhibitory effect on mitochondrial translation. However, whether combination of tigecycline with inhibition of autophagy could overcome drug resistance in CML remains unclear.
Methods
We analyzed the biological and metabolic effect of tigecycline on CML primary cells and cell lines to investigate whether tigecycline could regulate autophagy in CML cells and whether coupling autophagy inhibition with treatment using tigecycline could affect the viabilities of drug-sensitive and drug-resistant CML cells.
Results
Tigecycline inhibited the viabilities of CML primary cells and cell lines, including those that were drug-resistant. This occurred via the inhibition of mitochondrial biogenesis and the perturbation of cell metabolism, which resulted in apoptosis. Moreover, tigecycline induced autophagy by downregulating the PI3K-AKT-mTOR pathway. Additionally, combining tigecycline use with autophagy inhibition further promoted the anti-leukemic activity of tigecycline. We also observed that the anti-leukemic effect of tigecycline is selective. This is because the drug targeted leukemic cells but not normal cells, which is because of the differences in the mitochondrial biogenesis and metabolic characterization between the two cell types.
Conclusions
Combining tigecycline use with autophagy inhibition is a promising approach for overcoming drug resistance in CML treatment.