01.12.2017 | Research | Ausgabe 1/2017 Open Access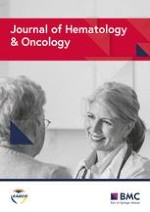 Inhibition of LIN28B impairs leukemia cell growth and metabolism in acute myeloid leukemia
Zeitschrift:
Autoren:

Jianbiao Zhou, Chonglei Bi, Ying Qing Ching, Jing-Yuan Chooi, Xiao Lu, Jessie Yiying Quah, Sabrina Hui-Min Toh, Zit-Liang Chan, Tuan Zea Tan, Phyllis SY Chong, Wee-Joo Chng
Wichtige Hinweise
Electronic supplementary material
The online version of this article (doi:
10.​1186/​s13045-017-0507-y
) contains supplementary material, which is available to authorized users.
Background
Methods
Cell culture
TF-1a, TF-1, HEL, and THP-1 AML cell lines were cultured in Roswell Park Memorial Institute (RPMI)1640 (Biowest, France), supplemented with 10% fetal bovine serum (Biowest) and 1% of 100× penicillin/streptomycin (P/S) (Biowest) at 37 °C with 5% CO 2. Additional 4 ng/μl of recombinant human IL-3 (Preprotech, NJ, USA) was also added for TF-1. HEK-293T cells were maintained in Dublecco's modified Eagle's medium (DMEM) (Biowest) supplemented with 10% FBS and 1% of P/S at 37 °C with 5% CO 2.
Transfections and lentiviral shRNAs transductions
Polyethylenimine (PEI) (Sigma-Aldrich, MO, USA) was used for plasmid transfection of HEK-293T at 50–60% confluency. Protein or RNA was carried out 2 days after transfection. MyeloAim In Vitro Transduction reagent (BIOO Scientific, TX, USA) was used to transfect let-7 miRNA mimics to TF-1a cells. Cells were allowed to grow in MyeloAim medium complex containing 10 nM of let-7 miRNA mimic, 400 μl of serum free medium, and 40 μl of MyeloidAim reagent at 37 °C overnight before replacing the medium complex with complete growth medium and continued to culture for another 48 h. Plasmids pEGFP and LIN28B-pEGFP were transfected into TF-1 cells by Neon transfection (electroporation). TF-1 cells were resuspended with 100 μl of Resuspension buffer R (Invitrogen) per 1 × 10 6 cells and incubated with 5 μg of plasmid. The Neon transfection system (Invitrogen) was performed at room temperature using 1200 voltage, 20 ms for three pulses. After transfection, cells were cultured in 1 ml of RPMI 1640 and incubated at 37 °C with 5% CO 2.
Lentivirus production and transduction
The third generation packaging plasmids: pMDLg/pRRE, pRSV-Rev, and pMD2.G as described were transfected using an optimized ratio of 4 μg:2 μg:2 μg, respectively. Additional 5 μg of lentiviral LIN28B or LIN28B specific shRNAs constructs were added. LIN28B shRNA vectors were prepared according to the manufacturer's instructions (Thermo Scientific). The five pairs of oligonucleotides used were human pLKO.1 lentiviral LIN28B-shRNA target gene set TRCN0000142983 (ShRNA1), TRCN0000143619 (ShRNA2), TRCN0000144508 (ShRNA3), TRCN0000219859 (ShRNA4), and TRCN0000219860 (ShRNA5). The five pairs of oligonucleotides used were human pLKO.1 lentiviral IGF2BP1-shRNA target gene set TRCN0000075148 (ShRNA1), TRCN0000075149 (ShRNA2), TRCN0000075150 (ShRNA3), TRCN0000075151 (ShRNA4), and TRCN0000075152 (ShRNA5). These plasmids were co-transfected using PEI to HEK-293T. Virus was harvested, pooled, and concentrated by centrifugation (Amicon). Infection of leukemia cells was done by the spin-infection method as described previously [
20
].
Quantitative real-time RT-PCR
RNA was extracted using RNeasy Mini Kit (Qiagen Singapore) and performed according to the manufacturer's protocol. One microgram of total RNA was used to perform cDNA synthesis using 4 μl of i-Script™ Reverse Transcription Supermix (Biorad, CA, USA). Two microliters of reaction products per reaction well (96-well plate) was used for real-time PCR with 0.8 μl of respective primers in 10 μl of PCR reagent (iTaq Universal SybrGreen mastermix, Biorad) to a total volume of 20 μl and performed under the following conditions: 2 min at 50 °C, 10 min at 95 °C, 15 s at 95 °C, and 1 min at 60 °C for 40 cycles using 7300 real-time PCR system (Applied Biosystems, CA, USA). GAPDH was used as the internal control. SDS 2.2.1 software (Applied Biosystems) was used to perform relative quantification of target genes using the comparative C
T
(ΔΔC
T
) method. Quantification of let-7 miRNA was conducted with TaqMan MicroRNA assay using the same 7300 real-time PCR system protocol as described earlier [
18
]. The primer sequences were described in Additional file
1
: Table S1.
Cell viability assays
Leukemic cells were seeded in 96-well culture plates at a density of 2 × 10 4 viable cells/100 μl/well in triplicates. CellTiter-Glo® Luminescent Cell Viability Assay (CTG assay, Promega, Madison, WI) was used to determine the cell growth and viability as previously described. Each experiment was in triplicate.
Cell cycle analysis
Total 5 × 10 5 cells/well of cells were labeled in medium containing 10 μM of BrdU (Becton Dickinson, NJ, USA) in 12-well plates and then cultured for 12 h. Cells were stained with Aqua dye (Gift from Dr. Osato Motomi's lab) for 30 min prior fixation. Then, APC-anti-BrdU (Becton Dickinson) and 7-Aminoactinomycin D (7-AAD) (Becton Dickinson) were used according to the manufacturer's protocol. Samples were analyzed using BD LSR II flow cytometer (Becton Dickinson) and Flowjo (Treestar, OR, USA). Cell cycle profiles were determined based on the 7-AAD/anti-BrdU staining pattern, while non-viable cells were identified and excluded based on the excitation level from aqua dye. We also analyzed DNA histograms for cell cycle using propidium iodide (PI)/RNase staining buffer (BD Pharmingen, San Diego, CA).
Protein extraction and Western blotting
Total protein extracts were vortex and prepared in lysis buffer (1% Nonidet P-40, 50 mM Tris, pH 8.0, 50 mM NaCl, 1 mM EDTA, 10% glycerol, protease and phosphatase inhibitors). The samples were separated on 12% polyacrylamide denaturing gels and transferred to PVDF membranes. Membranes were saturated for 1 h in 5% milk with 0.1% Tween 20-PBS (PBS-T) solution before incubating with the following antibodies: LIN28B antibody, IGF2BP-1 antibody, Cyclin B1 antibody, p21waf1 antibody from Cell Signaling Technologies (Danvers, MA) and Cyclin D1 antibody, beta-actin HRP conjugated antibody from Santa Cruz Biotechnology (Santa Cruz, CA).
Affymetrix microarray analysis
TF-1a cells were transduced with either Scramble shRNA or LIN28B-shRNA5 for 72 h. Cells were harvested, and total RNA was extracted using the RNeasy Mini Kit, according to the manufacturer's instruction (Qiagen). RNA quantity, quality, and purity were assessed with the use of the RNA 6000 Nano assay on the Agilent 2100 Bioanalyzer (Agilent Technologies, Santa Clara CA, USA).
Gene expression profiling was performed using Affymetrix U133plus2.0 gene chip (Affymetrix, Santa Clara, CA) according to the manufacturer's protocol. The scanned data was processed using MicroArray Suite version 5.0 (MAS) (Affymetrix). The gene expression data was then log-transformed, median centered, and analyzed using the Genespring GX 7.3.1 software (Agilent Technologies, Santa Clara CA). Sequential filtering was employed to select genes for subsequent analysis. First, non-expressed probe sets (assigned an absent or marginal flag by MAS) were excluded. The remaining probe sets were subjected to ANOVA across the samples. The probe sets with significant variation with a corrected
p
value of less than 0.05 after multiple testing corrections using the Benjamini and Hochberg methods were used for subsequent comparative analysis.
Gene ontology (GO) and IPA pathway analysis of differentially expressed genes
GO analysis of the significant probe list was performed using PANTHER (
http://​www.​pantherdb.​org/​
), using text files containing the Gene ID list and accession numbers of the Affymetrix probe ID. The same list of differentially expressed genes was input into Ingenuity Pathway Analysis (IPA) (Ingenuity Systems; Mountain View, CA, USA). A comprehensive search to identify their biological functions, gene interaction networks, and pathway analysis was conducted by IPA system. The identified genes were mapped to genetic networks available from the Ingenuity database and were then ranked by score. The significance was set at a
p
value of 0.05.
Measurements of metabolites
TF-1a-Scramble, TF-1a-LIN28B-shRNA3, and TF-1a-LIN28B-shRNA5 cells were lysed in RIPA lysis buffer. Three kits were purchased from Abcam (Cambridge, UK), including Glutamate Assay Kit (Fluorometric) (ab138883), L-Amino Acid Assay Kit (ab65347), and Aspartate Assay Kit (ab102512). The measurement of glutamate, L-amino acid, and aspartate were performed according to manufacturer's specifications.
AML xenograft model
Six-week-old female nonobese diabetic/severe combined immunodeficient (NOD/SCID) mice were purchased from In Vivos Singapore. Exponentially growing TF1-pEGFP, TF1-LIN28B cells (3 × 10 6), as well as TF1-LIN28B cells expressing LIN28B-shRNA5 cells (TF1-LIN28B-sh5) were mixed with Matrigel (50%) and subcutaneously injected into loose skin between the shoulder blades and the left hind leg of NOD/SCID-recipient mice, respectively. Each group has 10 mice. The length (L) and width (W) of the tumor were measured with calipers every 2 days, and tumor volume (TV) was calculated as TV = (L × W 2)/2. At the end of experiments, mice were euthanized and tumors were dissected. The protocol is reviewed and approved by Institutional Animal Care and Use Committee in compliance to the guidelines on the care and use of animals for scientific purpose.
Results
Discussion
Conclusions
In summary, our findings demonstrate a pivotal role of LIN28B/let-7/IGF2BP1 in progression of AML and indicate the essential changes in metabolic pathways by LIN28B. Thus, targeting LIN28B or let-7 may be an effective therapeutic option for AML patients.
Acknowledgements
Not applicable.
Funding
This research is supported by the National Research Foundation Singapore and the Singapore Ministry of Education under its Research Centres of Excellence initiative (WJ Chng) and NMRC Clinician-Scientist IRG Grant CNIG11nov38 (J.Z.). W.J.C. is also supported by NMRC Clinician Scientist Investigator award. This study is also partially supported by the RNA Biology Center at CSI Singapore, NUS, from funding by the Singapore Ministry of Education's Tier 3 grants, grant number MOE2014-T3-1-006.
Availability of data and materials
The datasets supporting the conclusions of this article are included within the article and its additional files.
Ethics approval and consent to participate
The protocol is reviewed and approved by Institutional Animal Care and Use Committee (NUS) in compliance to the guidelines on the care and use of animals for scientific purpose.
Consent for publication
Not applicable.
Competing interests
The authors declare that they have no competing interests.
Publisher's Note
Springer Nature remains neutral with regard to jurisdictional claims in published maps and institutional affiliations.
Open Access
This article is distributed under the terms of the Creative Commons Attribution 4.0 International License (
http://​creativecommons.​org/​licenses/​by/​4.​0/​
), which permits unrestricted use, distribution, and reproduction in any medium, provided you give appropriate credit to the original author(s) and the source, provide a link to the Creative Commons license, and indicate if changes were made. The Creative Commons Public Domain Dedication waiver (
http://​creativecommons.​org/​publicdomain/​zero/​1.​0/​
) applies to the data made available in this article, unless otherwise stated.