01.12.2012 | Research | Ausgabe 1/2012 Open Access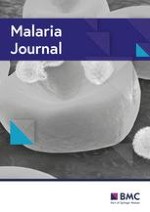 Insights into deregulated TNF and IL-10 production in malaria: implications for understanding severe malarial anaemia
Zeitschrift:
Autoren:

Philippe S Boeuf, Séverine Loizon, Gordon A Awandare, John KA Tetteh, Michael M Addae, George O Adjei, Bamenla Goka, Jørgen AL Kurtzhals, Odile Puijalon, Lars Hviid, Bartholomew D Akanmori, Charlotte Behr
Wichtige Hinweise
Electronic supplementary material
The online version of this article (doi:
10.​1186/​1475-2875-11-253
) contains supplementary material, which is available to authorized users.
Competing interest
The authors have no conflict of interest. Jørgen Kurtzhals has received project funding for unrelated studies from Vifor Pharma, Switzerland and Novo Nordisk, Denmark.
Authors' contributions
BG, JK, BDA, LH and CB designed the study. GOA, BG and JK recruited the participants. PB, SL, GAA, JT and MMA generated the data. PB, OMP and CB analysed the data and wrote the manuscript. CB supervised the research and secured the funding. All authors approved the final version of the manuscript.
Abstract
Background
Severe malarial anaemia (SMA) is a major life-threatening complication of paediatric malaria. Protracted production of pro-inflammatory cytokines promoting erythrophagocytosis and depressing erythropoiesis is thought to play an important role in SMA, which is characterized by a high TNF/IL-10 ratio. Whether this TNF/IL-10 imbalance results from an intrinsic incapacity of SMA patients to produce IL-10 or from an IL-10 unresponsiveness to infection is unknown. Monocytes and T cells are recognized as the main sources of TNF and IL-10
in vivo
, but little is known about the activation status of those cells in SMA patients.
Methods
The IL-10 and TNF production capacity and the activation phenotype of monocytes and T cells were compared in samples collected from 332 Ghanaian children with non-overlapping SMA (n = 108), cerebral malaria (CM) (n = 144) or uncomplicated malaria (UM) (n = 80) syndromes. Activation status of monocytes and T cells was ascertained by measuring HLA-DR+ and/or CD69+ surface expression by flow cytometry. The TNF and IL-10 production was assessed in a whole-blood assay after or not stimulation with lipopolysaccharide (LPS) or phytohaemaglutinin (PHA) used as surrogate of unspecific monocyte and T cell stimulant. The number of circulating pigmented monocytes was also determined.
Results
Monocytes and T cells from SMA and CM patients showed similar activation profiles with a comparable decreased HLA-DR expression on monocytes and increased frequency of CD69
+
and HLA-DR
+
T cells. In contrast, the acute-phase IL-10 production was markedly decreased in SMA compared to CM (
P
 = .003) and UM (
P
 = .004). Although in SMA the IL-10 response to LPS-stimulation was larger in amplitude than in CM (
P
 = .0082), the absolute levels of IL-10 reached were lower (
P
 = .013). Both the amplitude and levels of TNF produced in response to LPS-stimulation were larger in SMA than CM (
P
 = .019). In response to PHA-stimulation, absolute levels of IL-10 produced in SMA were lower than in CM (
P
 = .005) contrasting with TNF levels, which were higher (
P
 = .001).
Conclusions
These data reveal that SMA patients have the potential to mount efficient IL-10 responses and that the TNF/IL-10 imbalance may reflect a specific monocyte and T cell programming/polarization pattern in response to infection.