01.12.2017 | Research article | Ausgabe 1/2017 Open Access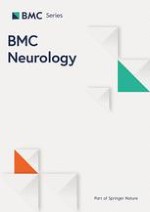 Interaction among
COX

-2,

P2Y1

and

GPIIIa

gene variants is associated with aspirin resistance and early neurological deterioration in Chinese stroke patients
Zeitschrift:
Autoren:

Xingyang Yi, Chun Wang, Qiang Zhou, Jing Lin
Abbreviations
END
Early neurological deterioration
ERIS
Early recurrent ischemic stroke
GMDR
Generalized multifactor dimensionality reduction
HT
Hemorrhagic transformation
LDL-C
High-density lipoprotein cholesterol
LDL-C
Low-density lipoprotein cholesterol
LTA
Light transmittance aggregometry
NIHSS
National Institutes of Health Stroke Scale
SNPs
Single nucleotide polymorphisms
TOAST
Trial of ORG 10172 in the Acute Stroke Treatment
Background
Stroke is one of the leading causes of human mortality and disability [
1
]. Early neurological deterioration (END) and recurrent ischemic stroke (ERIS) are common and are associated with poor prognosis in acute ischemic stroke (IS) patients [
2
]. Aspirin is routinely used for the treatment of IS [
3
], and its use is associated with improved outcomes [
2
,
4
]. However, recent studies have shown that aspirin resistance (AR) can lead to the failure of antiplatelet therapy [
5
], and is associated with frequent END and ERIS in patients with acute IS [
6
,
7
]. Thus, further identification of risk factors for AR could improve the treatment of patients at risk of IS, enabling clinicians to choose more effective treatments.
Aspirin acts by inhibiting platelet cyclooxygenase enzymes (COX), preventing generation of thromboxane A2 (TXA2) from arachidonic acid (AA). TXA2 binds to glycoprotein coupled receptor (GPIIb/IIIa) leading to phospholipase C activation and platelet aggregation [
8
]. The platelet membrane receptors P2Y12 and P2Y1 play a key role in platelet aggregation, thrombosis and pharmacological targeting of these receptors [
9
]. Adenosine diphosphate (ADP) amplifies multiple signal pathways to activate platelets through autocrine and paracrine mechanisms, whereas inhibition of P2Y12 receptors prevents ADP-induced platelet activation [
10
]. P2Y12 antagonists have been shown to potently inhibit platelet activation [
11
]. Therefore, genetic variants of these signal molecules may contribute to AR.
A number of studies have assessed the association of AR with single nucleotide polymorphisms (SNPs) in
COX
and the above mentioned receptors genes. For example, polymorphisms in
COX-1, COX-2, GPIIIa, P2Y1
,
P2Y12
were reported to contribute to AR [
12
–
17
]. However, other studies, including a previous study published by this group, did not find aspirin responsiveness to be associated with these variants in patients with symptomatic vascular disease [
18
–
20
]. Thus, the role of SNPs in
COX-1, COX-2
,
GPIb, GPIIIa, P2Y1, P2Y12
in AR remains controversial [
21
]. These conflicting findings indicate that the contribution of genetic factors to AR may involve a complex network of mutations. It is possible that the effects of each locus alone may be too small to be detected in relatively small patient groups, and only specific combinations of multiple variants were found to significantly contribute to AR. Thus, investigating multiple gene-gene interactions using the generalized multifactor dimensionality reduction (GMDR) approach may be required to accurately characterize the genetic etiology of AR [
22
,
23
]. However, no such studies investigating the effect of gene-gene interactions on AR have been reported.
We hypothesize that the interaction of particular genetic variants may contribute to AR and END in IS patients. In this study, we assessed the potential contribution of fourteen variants in six genes to AR and END in acute IS patients using GMDR analysis.
Methods
Results
Discussion
Recurrent ischemic stroke is common in IS patients. In this study, the frequencies of ERIS, MI and death did not significantly differ between the AR + ASR group and AS group. Furthermore, we found that high-risk interactive genotypes did not increase the risk of recurrent stroke.
Our conclusions are limited by the scope of this particular study. Firstly, we enrolled a relatively small sample size, including only two centers, and the follow up period was relatively short. Our findings will need be validated in larger, multi-center studies that follow patients for longer. Secondly, although we genotyped multiple functional variants in known aspirin-relevant genes, some rare functional variants may have been overlooked; thus, we are not able to exclude the role of other polymorphisms in the regulation of AR. Finally, although the main aim of this study was to assess the occurrence of AR, and the association of genetic variants with AR and early clinical outcomes in acute ischemic stroke, we did not include the relevant negative control to allow the association of these gene variants with ischemic stroke to be analyzes. We therefore could not eliminate the possibility that these gene variants interact to contribute to acute stroke themselves. Thus, it will be essential to include a non-stroke group taking aspirin in future studies.
Conclusion
We assessed the contribution of fourteen variants from six genes with AR and END in acute IS patients using the GMDR approach. We found that combinations of rs20417CC, rs1371097TT, and rs2317676GG; rs20417CC, rs1371097TT, and rs2317676GG/AG; rs20417CC, rs1371097CT, and rs2317676AG were associated with a higher risk of AR in IS patients. Moreover, AR and high-risk interactive genotypes were independently associated with END. Our findings suggest that the genetic basis for AR is complex, and that genotyping of multiple relevant genes may be necessary to predict AR risk and manage IS patients.
Acknowledgements
None.
Funding
This study was supported in part by grants from the Scientific Research Foundation of Chengdu University of Traditional Chinese Medicine (Grant No.YYZX1510) and the Deyang City Science and Technology Research Foundation (Grant No.2014SZ035).
Availability of data and materials
The data supporting our findings can be found in our article.
Authors' contributions
XY participated in the design of the study, statistical analysis, and drafted the manuscript. CW carried out the molecular genetic studies, participated in the sequence alignment. QZ participated in the sequence alignment. JL helped to draft the manuscript. All authors read and approved the final manuscript.
Competing interests
The authors declare that they have no competing interests.
Consent for publication
Consent for publication is obtained from all participants.
Ethics approval and consent to participate
The study protocol was approved by the Ethics Committee of the People's Hospital of Deyang City and the Third Affiliated Hospital of Wenzhou Medical University. Written informed consent was obtained from each patient prior to study enrollment.
Open Access
This article is distributed under the terms of the Creative Commons Attribution 4.0 International License (
http://​creativecommons.​org/​licenses/​by/​4.​0/​
), which permits unrestricted use, distribution, and reproduction in any medium, provided you give appropriate credit to the original author(s) and the source, provide a link to the Creative Commons license, and indicate if changes were made. The Creative Commons Public Domain Dedication waiver (
http://​creativecommons.​org/​publicdomain/​zero/​1.​0/​
) applies to the data made available in this article, unless otherwise stated.