01.12.2017 | Case report | Ausgabe 1/2017 Open Access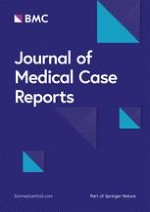 Internal herniation through lesser omentum hiatus and gastrocolic ligament with malrotation: a case report
Zeitschrift:
Autoren:

Ang Li, Renwang Hu, Dong Zhou, Senmao Li, Dan Huang, Xin Wei, Zhixin Cao
Background
An internal hernia is formed in a variety of ways, such as various intestinal mesentery defects of congenital or acquired peritoneal folds. Duodenal hernia (53%) and pericecal hernia (13%) are the most common internal hernias, followed by the foramen of Winslow (8%), transmesenteric hernia (2%), and transomental hernia (1%) [
1
]. Internal herniation through lesser omentum hiatus and gastrocolic ligament with malrotation is rarely seen during a clinical examination. Preoperative diagnosis is difficult and prone to misdiagnosis. We report this case in order to enrich clinical thinking on acute abdomen.
Case presentation
A 38-year-old Chinese woman was an emergency admission to our hospital with a sudden onset of acute epigastralgia for the past 14 hours. In particular, she had severe pain in her left upper quadrant, accompanied by nausea but no vomiting, inability to pass flatus and stool as well as intestinal obstruction, no radiating pain, and she was afebrile. She had a history of endometriosis but no abdominal surgery. On admission, she had pain and looked slightly pale, with a pulse of 102 beats/minute and a blood pressure of 106/77 mmHg. Her abdomen was tender in the epigastric region, but Blumberg's sign and muscular defense were absent; bowel sounds were absent. Blood tests revealed an increased leukocyte count (15.41 × 10
9
/L, with 92% neutrophils), hemoglobin (Hb) 118 g/L, and normal liver and pancreatic enzymes. An emergency abdominal plain film (Fig.
1
) demonstrated the right side below her diaphragm was free of gas; perforation of the digestive tract was considered. Her left upper jejunum had mild expansion, intestinal obstruction was not ruled out. After admission, she was dehydrated, hemodynamically unstable, and her blood pressure decreased progressively to septic shock. We made a presumptive diagnosis of gastrointestinal perforation and septic shock. Septic shock invariably requires anti-shock treatment and urgent surgery even if symptoms are limited as in our case. At laparotomy, we observed the ileocecal was relatively free (Fig.
2
), which was pulled by the ileum at omental sac area, the small intestine loop dilated and herniated through the hepatogastric ligament hiatus into retrogastric space (Fig.
3
), and then twisted out of a fissure in gastrocolic ligament. Approximately 1 m of her intestine showed edema; some of her small intestine was necrotic. Straightening some of her small intestine suggested intestinal malrotation for the cecum was free. There still was a diverticulum (Fig.
4
) of approximately 3.0 × 6.0 cm sited at a distance of 80 cm from the ileocecal intestine. Finally, the strangulated intestinal loop and the diverticulum were resected, an appendicectomy was performed, and the fissure was closed. Her postoperative recovery was smooth and she was discharged on day 6 after the operation without any complications during the hospitalization.
×
×
×
×
Discussion
Conclusions
The incidence of intra-abdominal hernia is rare, especially for patients who have not had abdominal surgery, so clinicians should be vigilant. Unfortunately, the preoperative diagnosis rate is low, patients often have obvious symptoms and late stage manifestation before emergency surgery. Because it is prone to incarceration and necrosis, delayed treatment could lead to dire consequences. Therefore, diagnosis and confirmation of preoperative diagnosis is still a challenge.
Acknowledgements
Not applicable.
Availability of data and materials
Not applicable.
Ethics approval and consent to participate
Not applicable since this case report was retrospective.
Consent for publication
Written informed consent was obtained from the patient for publication of this case report and accompanying images. A copy of the written consent is available for review by the Editor-in-Chief of this journal.
Competing interests
The authors declare that they have no competing interests.
Publisher's Note
Springer Nature remains neutral with regard to jurisdictional claims in published maps and institutional affiliations.
Open Access
This article is distributed under the terms of the Creative Commons Attribution 4.0 International License (
http://​creativecommons.​org/​licenses/​by/​4.​0/​
), which permits unrestricted use, distribution, and reproduction in any medium, provided you give appropriate credit to the original author(s) and the source, provide a link to the Creative Commons license, and indicate if changes were made. The Creative Commons Public Domain Dedication waiver (
http://​creativecommons.​org/​publicdomain/​zero/​1.​0/​
) applies to the data made available in this article, unless otherwise stated.