01.12.2017 | Case report | Ausgabe 1/2017 Open Access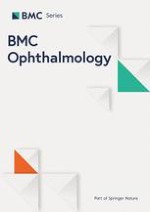 Iris reconstruction using autologous iris preserved in cold balanced salt solution for 8 hours in iatrogenic total iridodialysis during cataract surgery: a case report
Zeitschrift:
Autoren:

Seung Pil Bang, Jong Hwa Jun
Abstract
Background
A large iris defect or extensive iridodialysis can be an intractable cause of visual disturbance, photophobia, glare, monocular diplopia, or cosmetic deformity. The implantation of an artificial iris substitute could be an effective option, but this can cause a reduction in endothelial cell density. We succeeded in the anatomical restoration of iris tissue that was totally dialyzed out of the eye, and was preserved in cold balanced salt solution for 8 h. Engrafted iris tissue was maintained within the aqueous humor.
Case presentation
A 71-year-old man was referred to our clinic for management of an iatrogenic total iridodialysis. The totally dialyzed iris tissue was immediately preserved in sterile cold balanced salt solution and packed in a sterile biopsy bottle that was surrounded with ice cubes. Under general anesthesia, a pars plana vitrectomy was performed to remove the remaining lens cortex and vitreous fiber anterior to the equator. A sulcus-positioned intraocular lens (IOL) was repositioned and fixed by
ab externo
scleral sutures. Preserved iris tissue was inserted and ironed using both iris spatula and ocular viscoelastic devices. Five-point
ab interno
scleral sutures were made 1.0 mm posterior to the limbus.
Conclusions
The engrafted iris was successfully maintained for 6 months and did not undergo any atrophic change or depigmentation, which may be caused by primary implantation failure due to a blocked blood supply.