22.11.2019 | Original Contributions | Ausgabe 2/2020 Open Access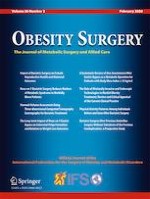 Knowledge and Attitudes Towards Obesity and Bariatric Surgery in Chinese Nurses
Zeitschrift:
Autoren:

Meiling Fan, Jie Hong, Pik Nga Cheung, Shutong Tang, Jing Zhang, Songhao Hu, Shuwen Jiang, Xiaomei Chen, Shuqing Yu, Lilian Gao, Cunchuan Wang, Weiju Chen, Wah Yang
Wichtige Hinweise
Meiling Fan, Jie Hong and Pik Nga Cheung contributed equally to this work.
Publisher's Note
Springer Nature remains neutral with regard to jurisdictional claims in published maps and institutional affiliations.
Obesity has become a global epidemic. In 2016, 39% of women and 39% of men aged 18 and over were overweight [
1
]. Surgical treatment of obesity and metabolic disorders increases rapidly in China, but it is still a new discipline even to health professionals and there is low awareness among nurses. There are not many professional bariatric case managers; thus, bariatric patients are mainly cared for by nurses. As an important member of the multidisciplinary team, the knowledge and attitudes of the nurses provide crucial health care to the patients and support to surgeons. However, the role of nurses is often undermined/neglected in health education, promotion counseling, and postoperative follow-up.
Some studies indicated that nurses have a negative attitude towards overweight or obese patients and possess a lack of knowledge about obesity [
2
–
4
]. The knowledge and attitudes towards obesity and bariatric surgery in Chinese nurses have been seldom studied. Therefore, we should pay more attention to the misunderstandings and gaps in the field of obesity and bariatric surgery among nurses. This study aimed to specially investigate the attitudes and knowledge of nurses in China regarding obesity and bariatric surgery and to analyze any differences between different nurses. This information is useful to improve perioperative nursing care, improved postoperative follow-up rates, and thus better patient outcomes.
Methods
Study Samples
All samples were registered nurses who agreed to participate in this study from different geographic provinces of China. This is a multicenter study, with the questionnaire distributed to cooperative hospitals in the form of electronic questionnaire by the First Affiliated Hospital of Jinan University in China in April 2018. A total of 5311 questionnaires were received, with an effective rate of 91.8% (4878 questionnaires).
Survey Design
A draft questionnaire was designed by the authors, referring to similar questionnaires in the literature [
3
,
5
,
6
], but revised in order to be suitable for Chinese nurses. It was tested, and minor revision was made based on feedback from 89 nurses. This questionnaire (
Appendix
) consisted of three parts. Part 1 assessed the knowledge of obesity and its related comorbidities and treatment. Part 2 found out attitudes towards weight loss and bariatric surgery. The last part of the questionnaire was the basic demographics of the participants, including gender, age, height, weight, education background, hospital level, and department. Participants were asked to answer with categorical field or choose "yes", "no" or "do not know." No financial and other material incentives were offered to the participants.
Data Analysis
All data were analyzed by SPSS (version 13.0) statistical software, and two machine input: that is, two researchers independent with one computer to make one input, completely consistent data, can enter analysis. Keep the original serial number as the standard for dual-machine comparison. Demographic, hospital level, and department were calculated by descriptive statistics and frequency counts. The chi-square test and Fisher exact test examined the potential association among categorical variables. A
p
value < 0.05 was considered statistically significant.
Results
Discussion
Obesity has become a global epidemic. Surgical treatment of obesity and metabolic disorders in China is increasing rapidly, but it is still a new discipline even to health professionals. Even physicians and other health-related professionals may not know much about bariatric surgery [
7
]. The knowledge and attitude of obesity and bariatric surgery has been seldom studied; thus, this study is important to investigate the knowledge and attitudes towards obesity and bariatric surgery in Chinese nurses.
Nurses' Gender
There is a well-recognized gender bias among the nursing professionals, with majority of nurses being female worldwide. According to data released by the Chinese government department, there are 4.1 million registered nurses [
8
], of which only 100,000 are males [
9
]. Some studies have showed that the proportion of male nurses in the USA and UK is 10.69% and 6.6%, respectively, while in other countries, the proportion is 5% in Canada, 10.4% in Australia, 18% in Germany, 22.9% in Portugal, 25% in Philippines, and 29% in Iran [
10
]. The Nursing Council of Hong Kong showed that a total of 27,205 registered nurses were female, but only 3465 were male up to the end of 2012 [
11
].
Incidence of Obesity in the Participants
In this study, most of the nurses (65.2%) had a normal BMI, and the incidence of obesity was only 2.4%, which was lower than the Chinese general population [
12
]. But in a previous study from the USA, it was found that 30% and 18.7% of nurses were overweight and obese, respectively, and even 5.2% of nurses were morbidly obese [
13
]. The incidence of obesity among nurses from Germany and Hong Kong (China) was higher than that in mainland China [
2
,
3
]. This may be caused by the differences in food, eating habits, and other aspects of people in mainland China from western countries and Hong Kong (China). At the same time, it may also explain the reasons why Chinese nurses have insufficient knowledge of obesity.
In addition, older nurses were more likely to be overweight or obese compared to younger nurses. This finding is consistent those reported in the literature [
13
]. Nurses working in administrative departments had higher incidence (3.2%) of obesity than that in clinical departments. A foreign study found that 36.2% of nurses were obese who worked in administration and management [
14
]. The higher incidence of obesity in these nursing roles may be related to reduced workload, long-term sedentary lifestyle, and lack of exercise. Moreover, there is a custom that Chinese nurses are mainly engaged in administration or management positions when they have worked for a certain number of years.
Knowledge Towards Obesity and Related Comorbidities
In this study, we found that there are many deficiencies and misunderstandings about obesity in Chinese nurses. It was found that 1337 nurses were of normal BMI but regarded themselves as overweight (Table
2
). This may be due to a lack of knowledge about the specific classifications of BMI. Other factors may include high personal and societal standards of ideal body weight among Chinese nurses. An American study also found that only 170 nurses accurately identified themselves as overweight or obese in 224 overweight nurses, and only 26% of nurses knew how to use BMI to classify obesity levels [
13
]. A Swiss study showed that the reason why some doctors and nurses did not have knowledge and skills in obesity diagnosis is due to a lack of guidelines of obesity and lifestyle; after that study, Geneva revised a pregraduate and postgraduate curriculum for medical students and doctors, as well as health care providers [
15
]. It is thus necessary to improve the knowledge and communication skills about obesity [
16
,
17
]. Every nurse should master BMI, waist circumference, hip circumference, etc., as important indicators for evaluating obesity. There were courses related to obesity in Chinese associate and undergraduate nursing education, but the content was relatively shallow.
In regard to obesity-related comorbidities, it could be seen that nurses with a master's degree or above were more fully aware of its complications (Table
4
). However, nurses at all education levels lacked knowledge of the other related aspects, for example the relationships between obesity to carcinoma (49.5%), gastroesophageal reflux diseases (40.1%), and psychological disorders (49.1%), which are the controversial issues in bariatric surgery. The World Obesity Federation announced their position statement that "Obesity is a chronic relapsing disease process" [
18
]. However, a significant proportion of the general population including a minority of endocrinologists and health care professions did not consider obesity as a disease in China. Nurses have different levels of knowledge of obesity and may be related to educational intensity and learning ability.
As present, China has gradually increased the publicity and popularization of obesity. Some professional associations related to obesity and metabolic diseases were established. Bariatric surgery has been increasingly incorporated into the curriculum of medical schools, with inclusion in student textbooks [
19
]. The Chinese government has also put forward the concept of healthy weight in its national policies, appealing to the public to keep fit.
Knowledge and Attitude Towards Weight Loss and Bariatric Surgery
Chinese nurses have a strong sense of losing weight, but few actually do it. Our data showed that 59.4% of nurses believe that they need to lose weight, but only 38.7% of nurses have a habit of regular exercise. On the one hand, it may be due to a lack of motivation; on the other hand, it may be that they possess insufficient time for exercise due to large workloads. A study has also showed that some nurses may not follow recommended guidelines for nutrition and exercise which may be related to gender and age [
20
]. In Sweden, about 50% of nurses seldom calculate their own BMI, and nearly one third of nurses rarely exercise or eat healthily [
21
].
At the same time, there were certain differences in gender attitudes towards weight loss. Table
2
shows that male nurses have higher incidence of being overweight and obese than female nurses, which probably explains why male nurses (56.2%) may have higher intention to engage in regular physical exercise than female nurses (38.3%). Female nurses expressed greater intention to lose weight, but they were less likely to be actively mobile. On the basis of mastering the knowledge of obesity, medical staff should pay more attention to their personal weight changes and health status and set up a good example of healthy being.
Our data showed that most nurses still believed the modalities of weight loss to be limited to exercise and diet, similar to previous studies [
21
–
23
]. Perhaps because these two methods are more economical, convenient, and feasible, close to the needs of the public. Only 13.1% of nurses knew that surgery can be an option for weight loss, and 39.2% and 35.5% of nurses had heard of gastric bypass and sleeve gastrectomy, respectively. This might be related to the lack of continuing medical education and access to learning materials.
Nurses' acceptance of safety (25.1%) and efficacy (22.9%) of bariatric surgery is low, mainly concerned about postoperative complications and adverse effects. This contrasts to the concerns of surgeons' which include the benefits of bariatric surgery to reduce obesity comorbidities and improve patient's quality of life [
24
].
It was also interesting to find that when nurses face different people, attitudes towards bariatric surgery vary. Only 22.5% of nurses accepted bariatric surgery and recommended it to their family or friends (Fig.
1
), indicating that they still lack confidence in it. But when faced with patients, more than 80% of nurses recommended bariatric surgery. It could be seen that nurses make different decisions in different social roles, and they will recommend bariatric surgery when they assume the social role as "nurse."
Finally, the study found that surgical nurses have more optimistic attitude towards bariatric surgery. This may be related to the content of their normal work. Surgical nurses mainly care for surgical patients, so they know more about surgical methods and related nursing. There is an urgent need to strengthen education of nonsurgical nurses on obesity, metabolic diseases, and bariatric surgery in China.
Recommendations
Medical education on obesity and related disorders should be enhanced among nursing students. The contents about metabolic and bariatric surgery were added into the textbook of Chinese undergraduate medical students in 2018 [
19
]. The training courses and curricula for nursing should be also updated accordingly.
Besides, continuing education about new ideas and new treatment modalities, including obesity and metabolic surgery, etc., should also be emphasized among nurses. Nurses play important roles in medical work not only in the treatment but also in the prevention of diseases such as obesity and metabolic disorders. Only by improving the knowledge of nurses can we better serve human health.
Moreover, hospital could provide working nurses with the opportunity to attend academic conferences and learn about the latest developments in various disciplines. It is important to encourage nurses to upgrade their educational qualifications and improve their own capacity, especially in the new discipline of metabolic and bariatric surgery in China.
Furthermore, the government authorities could invest revenue in public health campaigns to raise awareness of obesity among general population and health professionals. This may include through official media and national policies. Obesity must be recognized as a public health problem with physical and economic implications to the population.
Strengths and Limitations
To our knowledge, this study is the first of its kind to explore the knowledge and attitudes of Chinese nurses towards obesity and bariatric surgery in China. As an important part of the whole medical system, nurses' knowledge and attitudes strongly influence the quality of care which patients receive. This may be a meaningful and interesting study to better understand the international popularity of bariatric surgery, which may be beneficial to the promotion and popularization of bariatric surgery in China in the future. However, it also has some limitations. There may be some potential sources of bias in the voluntary self-reported data designed for this study. Outcomes to the recommendations can be further studied in the future.
Conclusions
Chinese nurses have poor knowledge of obesity-related metabolic disorders and also have poor acceptance of surgical treatment modalities. Our findings suggest that it is crucial to enhance the continuing education of Chinese nurses for obesity, metabolic disorders, and bariatric surgery.
Acknowledgments
The authors would like to thank Dr. Ken Loi for his support and assistance in the review of the grammar and language of the manuscript.
Compliance with Ethical Standards
Conflict of Interest
The authors declare that they have no conflicts of interest.
Ethical Approval
All procedures performed in studies involving human participants were in accordance with the ethical standards of the institutional and/or national research committee and with the 1964 Helsinki Declaration and its later amendments or comparable ethical standards. The study was approved by the institutional review boards of the hospital.
Informed Consent
Informed consent was obtained from all individual participants included in the study.
Open Access
This article is distributed under the terms of the Creative Commons Attribution 4.0 International License (http://creativecommons.org/licenses/by/4.0/), which permits unrestricted use, distribution, and reproduction in any medium, provided you give appropriate credit to the original author(s) and the source, provide a link to the Creative Commons license, and indicate if changes were made.
Appendix
Questionnaire of nurses' knowledge and attitude towards obesity and bariatric surgery
×
Publisher's Note
Springer Nature remains neutral with regard to jurisdictional claims in published maps and institutional affiliations.