26.10.2017 | Colorectal Cancer | Ausgabe 1/2018 Open Access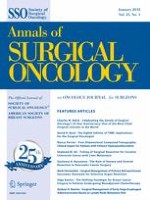 Locally Advanced Colorectal Cancer: True Peritoneal Tumor Penetration is Associated with Peritoneal Metastases
Zeitschrift:
Autoren:

MD Charlotte E. L. Klaver, MD Nadine C. M. van Huijgevoort, MD Anthony de Buck van Overstraeten, MD, PhD Albert M. Wolthuis, MD, PhD Pieter J. Tanis, MD, PhD Jarmila D. W. van der Bilt, MD, PhD Xavier Sagaert, MD, PhD André D'Hoore
Wichtige Hinweise
Electronic supplementary material
The online version of this article (doi:
10.​1245/​s10434-017-6037-6
) contains supplementary material, which is available to authorized users.
Abstract
Background
Findings show T4 colorectal cancer (CRC) to be a risk factor for the development of peritoneal metastases (PM). Heterogeneity regarding peritoneal involvement of T4 tumors might explain the wide range of reported PM incidences (8–50%). Hyperplastic and mesothelial inflammatory reactions complicate evaluation of the exact primary tumor involvement of the peritoneal layer. This retrospective cohort study aimed to assess the association between either inflammatory peritoneal reaction or peritoneal involvement of the primary tumor and the risk of PM.
Methods
Since 2010, pathologists at UZ Leuven have systematically categorized peritoneal involvement in peritoneal reaction with tumor less than 1 mm from the peritoneal surface or true peritoneal penetration. All patients undergoing resection of CRC between January 2010 and July 2013 who fulfilled either of these pathologic criteria were included in this study.
Results
The study enrolled 159 CRC patients. Peritoneal reaction with tumor less than 1 mm from the peritoneal surface was present in 43 patients and true peritoneal penetration in 116 patients. Overall, 29 patients (18%) had synchronous PM, and 30 patients (23%) had metachronous PM. In the multivariable analysis, true peritoneal penetration, in contrast to peritoneal reaction with tumor less than 1 mm from the peritoneum, was associated with greater risk of PM (odds ratio [OR], 2.518; range, 1.038–6.111;
p
= 0.041) and lymph node involvement (N1: OR, 1.572; range, 0.651–3.797 vs N2: OR, 4.046; range, 1.549–10.569;
p
= 0.014).
Conclusion
Histologically confirmed true peritoneal penetration by CRC, rather than inflammatory peritoneal reaction constitutes a high risk for PM. With evolving treatment strategies that aim to treat PM in an earlier phase, identification of high-risk patients becomes highly important clinically.