01.12.2018 | Research article | Ausgabe 1/2018 Open Access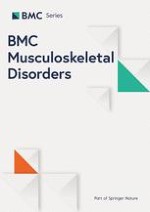 Locking plate for treating traumatic sternoclavicular joint dislocation: a case series
Zeitschrift:
Autoren:

Rongguang Ao, Yalong Zhu, Jianhua Zhou, Zhen Jian, Jifei Shi, Cheng Li, Wankun Hu, Baoqing Yu
Abstract
Background
Traumatic sternoclavicular joint dislocations are rare; closed reduction is the primary treatment. The failure of closed reduction or a prominent insult to the skin may require surgery to ensure the best possible outcome.
Methods
The records of 5 patients operated at our institution for sternoclavicular joint dislocation were reviewed. All patients were treated with open reduction and single 3.5-mm locking plate was used for fixation. Outcomes were evaluated with the Constant Shoulder Score (CSS) and Disability of the Arm, Shoulder, and Hand (DASH) questionnaire. Intraoperative and postoperative complications were recorded.
Results
All the patients had an average follow-up of 14 months (range, 11–16 months). At the final follow-up, the mean CSS score was 89.5 (range, 78–98) and the mean DASH score was 9.0 (range, 4–16). There were no early complications, including wound infection or neurologic or vascular deficits; there were also no broken or loosened screws or plates. No case of redislocation or arthrosis was observed.
Conclusion
Our study indicates that open reduction and fixation with a single locking plate for the treatment of traumatic sternoclavicular joint dislocation is a safe, relatively simple surgical procedure that can lead to satisfactory outcomes.