12.12.2018 | Original Contribution | Ausgabe 4/2019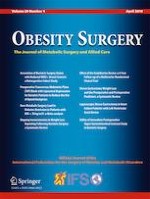 Long-term Results of Bariatric Surgery for Non-alcoholic Fatty Liver Disease/Non-alcoholic Steatohepatitis Treatment in Morbidly Obese Japanese Patients
Zeitschrift:
Autoren:

Daisuke Uehara, Yosuke Seki, Satoru Kakizaki, Norio Horiguchi, Hiroki Tojima, Yuichi Yamazaki, Ken Sato, Masanobu Yamada, Toshio Uraoka, Kazunori Kasama
Wichtige Hinweise
Electronic supplementary material
Publisher's Note
Springer Nature remains neutral with regard to jurisdictional claims in published maps and institutional affiliations.
Abstract
Background
Patients with morbid obesity are complicated with metabolic diseases and have a high incidence of non-alcoholic fatty liver disease (NAFLD), including non-alcoholic steatohepatitis (NASH).
Methods
We report on a follow-up study of a cohort included 102 obese patients (55 males and 47 females, mean age 42.9 ± 10.6 years) undergoing bariatric surgery for the management of morbid obesity. Abdominal computed tomography was performed before and 1 year after surgery. Anthropometric and biochemical measurements were performed at 1, 3, and 5 years after surgery.
Results
The mean body mass index (BMI) of the NAFLD patients improved from 42.5 ± 8.3 kg/m2 to 28.5 ± 6.9, and 29.1 ± 5.7, 29.7 ± 5.5 kg/m2 at 1, 3, and 5 years, respectively. The liver fat accumulation and visceral fat areas were significantly improved at 1 year after surgery. The decrease in the BMI, waist-hip ratio, body fat percentage, and basal metabolic rate remained decreased for at least 5 years after surgery. Blood test findings including AST, ALT, γ-GTP, uric acid, albumin, CRP, HDL cholesterol, LDL cholesterol, triglycerides, and homeostasis model assessment insulin resistance (HOMA-IR) were also still improved at least 5 years after surgery.
Conclusion
Bariatric surgery is useful for ensuring the long-term treatment of NAFLD/NASH in morbidly obese Japanese patients. Bariatric surgery is a therapeutic option for patients resistant to conventional treatment.