01.12.2019 | Case report | Ausgabe 1/2019 Open Access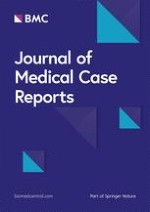 Madurella mycetomatis

infection of the buttock in an Eritrean refugee in Switzerland: a case report
Zeitschrift:
Autoren:

Carine Mekoguem, Cécile Triboulet, Alexandre Gouveia
Abstract
Background
Mycetoma is a neglected infectious disease caused by a fungus (eumycetoma) or bacteria (actinomycetoma); it is characterized by chronic local inflammation with sinus formation and purulent discharge. Its course can be quite devastating because of the difficulty in diagnosing the infection and in eliminating the causative agent. Although endemic in many countries in the tropics and subtropics, the migration of Africans to Europe may increase the presence of this neglected disease in European countries. We present a case of an Eritrean patient living in a non-endemic country who was diagnosed as having an infection of
Madurella mycetomatis
in an atypical location in his body.
Case presentation
We report the case of a 35-year-old African male refugee from Eritrea, living in Switzerland since 2015, who presented with a 1-year history of a painful soft tissue swelling associated with dark nodules in his right buttock. He mentioned having several previous surgeries after 2001 while he was in Eritrea due to recurrent abscess formation on this body area. In the previous months, the swelling had become more significant and nodules started draining a purulent fluid. An initial diagnostic hypothesis of buttock abscess was made and he was referred to a dermatologist for diagnostic confirmation and further specialist care due to the size and atypical presentation. After a punch biopsy, the diagnosis of eumycetoma was confirmed and cultures developed
Madurella mycetomatis
. The initial treatment approach consisted of oral treatment by itraconazole; however, a surgical resection of the lesions was finally needed.
Conclusions
Although rare, mycetoma should be diagnosed as early as possible to avoid long-lasting complications. Primary care physicians in European countries are frequently in the first line of care of migrant patients and therefore should be aware of the common and uncommon clinical presentations of mycetoma.