22.07.2019 | Original Scientific Article | Ausgabe 1/2020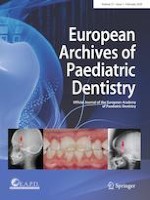 Management of odontogenic infection in paediatric patients: a retrospective clinical study
Zeitschrift:
Autoren:

Sarah Wan-Lin Lim, Wei Shiu Lee, Shani Ann Mani, Kathreena Kadir
Wichtige Hinweise
Publisher's Note
Springer Nature remains neutral with regard to jurisdictional claims in published maps and institutional affiliations.
Abstract
Purpose
To investigate the outpatient and inpatient management of odontogenic infections among paediatric patients attending a university hospital.
Methods
A retrospective study (2013–2015) was carried out which involved retrieving relevant data from past records (manual/electronic) of paediatric patients (under 18-years-old) who presented with odontogenic infections to the Paediatric Dentistry and Oral and Maxillofacial clinic. Data collected was organised using descriptive statistics with SPSS version 12.0.1.
Results
A total of 153 patients were identified, of which 83.7% were managed as outpatients. Odontogenic infections were more common in females (52.9%) and preschool children (58.2%). The most cases were seen in 2014 and maximum number of cases per month was 12. Common presentations were pain (62.1%), intraoral swelling (37.9%) and spontaneous pus discharge from the tooth and/or surrounding tissues (67.3%) with higher involvement of primary right molars. Dental panoramic tomograph was the most common radiographic investigation done. Outpatients were commonly managed chairside with pulpal opening (46.1%) at the paediatric dental clinic and 7% underwent extraction under general anaesthesia in day-care setting. Inpatients were admitted for 3 days on average and most commonly definitive care was extraction under local/general anaesthesia (68%). There were 22.7% outpatients and 72.0% inpatients who were prescribed antibiotics.
Conclusions
Overall, treatment and medications prescribed adhered to current guidelines. There was a tendency to solely prescribe antibiotics in 8.6% of outpatients which is contrary to recommendations.