01.12.2017 | Book review | Ausgabe 1/2017 Open Access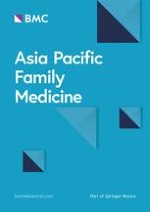 Manual for primary health care on Basic Occupational Health Services. Encouraging publication from India, focused on informal occupations
Zeitschrift:
Autoren:

Frank van Dijk, Peter Buijs
Abstract
Objective
To discuss a new book from India intended to inform and educate primary health care professionals on workers' health problems, with the aim to encourage new initiatives.
Study design
The book is considered against the background of international developments and evaluated on the usefulness for practice and policy development.
Results
The publication focuses on the 90% of the workers in India working informal, without a contract or social security, and often exposed to poor working conditions. It is the final aim of the book to prioritize care for those at the highest risk. For informal workers specialized occupational health services are absent. Therefore, primary health care might take care of basic facilities on workers' health, when educated and adequately supported by online information, occupational health experts and clinical referral services. Such new developments started as well in other countries such as China, Thailand, Iran and Indonesia, encouraged by WHO, WONCA (family physicians), ILO and ICOH (occupational health experts). In the book working conditions are described in 22 branches of economic activities in India with many informal workers like agriculture, leather and tanning industry, oil mills and street vendors. Next, associated health complaints and occupational diseases are explained. This information is relevant for family physicians to be able to recognize work-relatedness of health complaints and diseases. Numerous diseases can be work related such as asthma, depressive disorders, dermatitis, a variety of musculoskeletal disorders, hearing impairment, cancer of many organs, various infectious and neurological diseases. Diagnosis, treatment and prevention can be improved in primary health care, as well as advising in return to work activities. More detailed information on specific occupational or work-related diseases is given in clinical chapters. Comments are given to improve the usefulness in supporting new practices and policies.
Conclusion
This book from India fits well in worldwide developments promoting the integration of forms of workers' health care in primary health care.