01.12.2018 | Research article | Ausgabe 1/2018 Open Access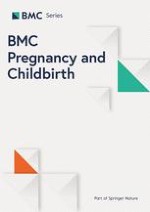 Maternal bleeding complications following early versus delayed umbilical cord clamping in multiple pregnancies
Zeitschrift:
Autoren:

Chayatat Ruangkit, Matthew Leon, Kasim Hassen, Katherine Baker, Debra Poeltler, Anup Katheria
Abstract
Background
In 2015, the American Academy of Pediatrics recommended delayed umbilical cord clamping for at least 30–60 s for all infants. However, there is limited data regarding the maternal safety of delayed cord clamping in multiple pregnancies. We aimed to compare the maternal bleeding complications following early cord clamping (ECC) versus of delayed cord clamping (DCC) in multiple pregnancies.
Methods
A retrospective cohort study of pregnant women with multiples who delivered live-born infants at Sharp Healthcare Hospitals in San Diego, CA, USA during January 1st, 2016 – September 30th, 2017. Bleeding complications of 295 women who underwent ECC (less than 30 s) were compared with 154 women who underwent DCC (more than 30 s). ECC or DCC was performed according to individual obstetrician discretion.
Results
Four hundred forty-nine women with multiple pregnancies (
N
 = 910 infants) were included in the study. 252 (85.4%) women underwent cesarean section in ECC group vs. 99 (64.3%) in DCC group. 58 (19.7%) women delivered monochorionic twins in ECC group vs. 32 (20.8%) women in DCC group. There was no increase in maternal estimate blood loss when DCC was performed comparing to ECC. There were no differences in operative time, post-delivery decrease in hematocrits, rates of postpartum hemorrhage, bleeding complications, maternal blood transfusions and therapeutic hysterectomy between the two groups.
Conclusions
No differences in maternal bleeding complications were found with DCC in multiple pregnancies compared to ECC. Delayed cord clamping can be done safely in multiple pregnancies without any increased maternal risk.