01.12.2019 | Case report | Ausgabe 1/2019 Open Access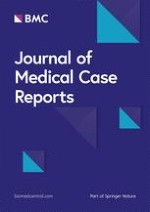 Median raphe cyst of the penis: a case report and review of the literature
Zeitschrift:
Autoren:

M. M. Aarif Syed, Bibush Amatya, Seema Sitaula
Wichtige Hinweise
Publisher's Note
Springer Nature remains neutral with regard to jurisdictional claims in published maps and institutional affiliations.
Abstract
Background
A defect in embryological development or closure of median raphe may lead to formation of cyst(s) anywhere in the midline from glans to anus. These cysts are referred to as median raphe cysts, an uncommonly encountered clinical condition. The cyst is generally solitary, with the penile shaft being the most common location, with average size of around 1 cm. The diagnosis is mostly clinical and confirmed histologically. We report a case of a patient with a rare histological variant of median raphe cyst and provide a focused review on presentation, histopathology, and management.
Case presentation
A 29-year-old unmarried Nepali man presented to our clinic with an asymptomatic, solitary, soft, translucent, nontender cystic lesion of about 1-cm diameter at the ventral aspect of glans penis, close to the meatus, that had been noticed at the age of 3 and was nonprogressive for the past 15 years. Ultrasonography demonstrated an isoechoic cystic lesion at the tip of the penis, separated from the urethra, and lying entirely within the mucosa without any evidence of solid component, septation, or vascularity. On the basis of clinical and ultrasonographic findings, a diagnosis of median raphe cyst of the penis was made. The cyst was excised with the patient under local anesthesia, and there was no evidence of recurrence in 2 years of follow-up. The histopathological examination with Hematoxylin and eosin staining showed the cyst wall was lined partly by ciliated pseudostratified columnar epithelium and partly by columnar epithelium with apical mucin.
Conclusions
Median raphe cyst is an uncommon, mostly asymptomatic condition in young patients. The cyst may occur anywhere along the midline from glans to anus. The diagnosis is clinical with histological confirmation. Excision is the treatment of choice with minimal chance of recurrence.