01.12.2016 | Research | Ausgabe 1/2016 Open Access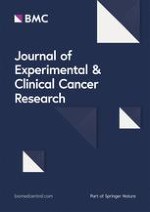 MicroRNA-655-3p functions as a tumor suppressor by regulating ADAM10 and β-catenin pathway in Hepatocellular Carcinoma
Zeitschrift:
Autoren:

Gang Wu, Kunming Zheng, Shuguan Xia, Yawei Wang, Xiangyu Meng, Xiaoming Qin, Ying Cheng
Abstract
Background
Increasing evidence suggests that microRNAs (miRNAs) play critical roles in malignant transformation, tumor progression and metastasis. Aberrant miR-655-3p expression has been associated with several cancers. However, the role and underlying mechanism of miR-655-3p in the development of hepatocellular carcinoma (HCC) remains unclear.
Methods
MiR-655-3p expression was detected by quantitative RT-PCR (qRT-PCR) in human HCC tissues and cell lines. Cell proliferation was investigated using MTT and colony formation assays, and cell migration and invasion abilities were evaluated by transwell assay. ADAM10 protein expression was detected by immunohistochemical assay. The target gene and downstream of miR-655-3p were determined by qRT-PCR, western blot and dual-luciferase reporter assays.
Results
miR-655-3p was significantly down-regulated in HCC tissues and HCC cell lines. Low miR-655-3p expression was negatively related to tumor size, portal vein tumor thrombosis (PVTT) status, TNM stage and metastasis status. In addition, miR-655-3p overexpression and depletion decreased and increased HCC cell proliferation, migration and invasion, respectively. Moreover, ADAM10 was identified as a direct target of miR-655-3p, and miR-655-3p down-regulated E-cadherin protein level and inhibits β-catenin pathway by mediating ADAM10.
Conclusions
MiR-655-3p might functions as a tumor suppressor by directly targeting ADAM10 and indirectly regulating β-catenin pathway in the development of progression of HCC. It may be a novel therapeutic candidate target to in HCC treatment.