01.12.2018 | Primary Research | Ausgabe 1/2018 Open Access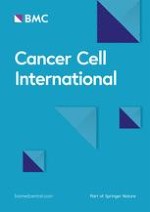 MiR-20a-5p suppresses tumor proliferation by targeting autophagy-related gene 7 in neuroblastoma
Zeitschrift:
Autoren:

Yongbo Yu, Jie Zhang, Yaqiong Jin, Yeran Yang, Jin Shi, Feng Chen, Shujing Han, Ping Chu, Jie Lu, Huanmin Wang, Yongli Guo, Xin Ni
Wichtige Hinweise
Yongbo Yu and Jie zhang contributed equally to this work
Abstract
Background
Neuroblastoma (NB) is the most common malignant tumor originating from the extracranial sympathetic nervous system in children. The molecular mechanisms underlying this disease are complex, and not completely understood.
Methods
Quantitative real-time PCR (qRT-PCR) was applied to quantify the expression of miR-20a-5p and its target gene ATG7 in clinical NB tissues. The biological function of miR-20a-5p and ATG7 in SH-SY5Y cells was investigated through in vitro studies (Real-Time cell kinetic analyzer, colony formation assay, caspase-Glo 3/7 assay and western blotting). The luciferase reporter assay was conducted to verify the biological relationship between miR-20a-5p and ATG7.
Results
Here we found that miR-20a-5p expression was significantly downregulated whereas its target autophagy-related gene 7 (ATG7) was increased along with clinical staging of NB progression. Correlation analysis showed that miR-20a-5p had a negative correlation trend with ATG7. In SH-SY5Y cells, forced expression of miR-20a-5p suppressed ATG7 expression, autophagy initiation and cellular proliferation while promoted apoptosis, suggesting a potential association between miR-20a-5p and ATG7. Further bioinformatic target prediction combined with protein expression and luciferase reporter assay verified that miR-20a-5p inhibited ATG7 by directly binding to its 3′-UTR, confirming the involvement of miR-20a-5p in the regulation of ATG7 in NB.
Conclusions
These results clarified that miR-20a-5p inhibited cell proliferation and promoted apoptosis through negative regulation of ATG7 and thus autophagy suppression in SH-SY5Y cells. Therefore, defining the context-specific roles of autophagy in NB and regulatory mechanisms involved will be critical for developing autophagy-targeted therapeutics against NB. Both miR-20a-5p and ATG7 would be potential therapeutic targets for future NB treatment.