01.12.2018 | Research | Ausgabe 1/2018 Open Access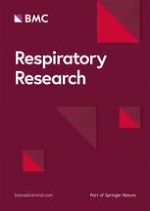 Modelling the asthma phenotype: impact of cigarette smoke exposure
Zeitschrift:
Autoren:

Maria G. Belvisi, Katie Baker, Nicole Malloy, Kristof Raemdonck, Bilel Dekkak, Michael Pieper, Anthony T. Nials, Mark A. Birrell
Abstract
Background
Asthmatics that are exposed to inhaled pollutants such as cigarette smoke (CS) have increased symptom severity. Approximately 25% of adult asthmatics are thought to be active smokers and many sufferers, especially in the third world, are exposed to high levels of inhaled pollutants. The mechanism by which CS or other airborne pollutants alter the disease phenotype and the effectiveness of treatment in asthma is not known. The aim of this study was to determine the impact of CS exposure on the phenotype and treatment sensitivity of rodent models of allergic asthma.
Methods
Models of allergic asthma were configured that mimicked aspects of the asthma phenotype and the effect of CS exposure investigated. In some experiments, treatment with gold standard asthma therapies was investigated and end-points such as airway cellular burden, late asthmatic response (LAR) and airway hyper-Reactivity (AHR) assessed.
Results
CS co-exposure caused an increase in the LAR but interestingly attenuated the AHR. The effectiveness of LABA, LAMA and glucocorticoid treatment on LAR appeared to be retained in the CS-exposed model system. The eosinophilia or lymphocyte burden was not altered by CS co-exposure, nor did CS appear to alter the effectiveness of glucocorticoid treatment. Steroids, however failed to reduce the neutrophilic inflammation in sensitized mice exposed to CS.
Conclusions
These model data have certain parallels with clinical findings in asthmatics, where CS exposure did not impact the anti-inflammatory efficacy of steroids but attenuated AHR and enhanced symptoms such as the bronchospasm associated with the LAR. These model systems may be utilised to investigate
how
CS and other airborne pollutants impact the asthma phenotype; providing the opportunity to identify novel targets.