28.01.2021 | Review Article | Ausgabe 4/2021 Open Access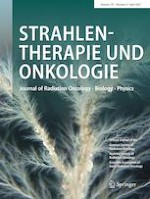 Moderate hypofractionation remains the standard of care for whole-breast radiotherapy in breast cancer: Considerations regarding FAST and FAST-Forward
Zeitschrift:
Autoren:

David Krug, René Baumann, Stephanie E. Combs, Marciana Nona Duma, Jürgen Dunst, Petra Feyer, Rainer Fietkau, Wulf Haase, Wolfgang Harms, Thomas Hehr, Marc D. Piroth, Felix Sedlmayer, Rainer Souchon, Vratislav Strnad, Wilfried Budach, Breast Cancer Expert Panel of the German Society of Radiation Oncology (DEGRO)
Introduction
Results: The FAST and FAST-Forward trials
The FAST and FAST-Forward trials were designed in a similar manner as their predecessors. Just as in the START A and B trials, each of the two trials used a three-arm design and compared two different experimental hypofractionation regimens to the standard of care at the time of trial conception. The FAST trial used conventionally fractionated radiotherapy (50 Gy in 25 fractions in 5 weeks) as standard of care while moderately hypofractionated accelerated radiotherapy (40 Gy in 15 fractions in 3 weeks) served as standard of care in FAST-Forward. In the FAST trial, treatment time was kept constant at 5 weeks (just as in START A), whereas FAST-Forward used a very accelerated course of adjuvant radiotherapy over just one week and compared this to the moderately accelerated 3 week standard regimen. Using two slightly different dosages in the experimental arms accounted for possible uncertainties regarding the impact of difference in treatment time. Both trials collected oncological outcomes and toxicity data as well as photographic documentation of normal tissue effects. In addition, the FAST-Forward trial provided a comprehensive assessment of patient-reported outcome.
The trial was not powered for statistical comparison of recurrence rates. Estimated cumulative incidence rates for ipsilateral breast events were 0.7% at 5 years and 1.3% at 10 years, corresponding to a total number of 11 local recurrences. There was no statistical difference between the trial arms, albeit with very large confidence intervals due to the low number of events.
Regarding late normal tissue effects, the patterns observed were similar to the FAST trial. Compared to the standard arm, longitudinal analyses showed that the higher dose experimental arm (27 Gy) displayed a significantly higher risk of almost every reported late normal tissue effect. In the lower dose experimental arm (26 Gy), most marked or moderate normal tissue effects were not significantly different to the standard arm. However, hazard ratios/odds ratios indicated a trend in favor of the standard arm for most of the analyzed items. Regarding breast induration outside the tumor bed and breast/chest wall edema, a significantly higher risk of toxicity was found for the 26 Gy arm compared to the standard arm. An analysis of 3024 patients at 5 years of follow-up reported in the appendix confirmed this and showed a significantly higher risk of breast induration outside the tumor bed with 27 Gy (RR 19.2, 95% CI 2.58–142.9) and 26 Gy (RR 19.1, 95% CI 2.57–141.9) as compared to 40 Gy. Of note, longitudinal analysis in the whole population with assessment of normal tissue effects (3975 patients) which also takes into account earlier evaluations, the odds ratio for moderate or marked breast induration for induration outside the tumor bed was only 2.79 (95% CI 1.74–4.50) for 27 Gy and 1.90 (95% CI 1.15–3.14) for 26 Gy. The absolute risk difference for moderate or marked breast induration outside the tumor bed at 5 years was 2% (1 out of 990 patients for 40 Gy, 20 out of 1008 patients for 27 Gy, 20 out of 1026 patients for 26 Gy), resulting in a number needed to harm of 50 patients. For most late normal tissue effects, the 26 Gy arm was superior to the 27 Gy arm.
Patient-reported outcome data support the above-mentioned findings. Overall, more patients treated with 27 Gy reported moderate or marked events during follow-up. The 26 Gy arm was inferior to 40 Gy only for the item "breast harder or firmer" (OR 1.22, 95% CI 1.00–1.48) with a trend towards superiority with 26 Gy for the item "breast smaller" (OR 0.81, 95% CI 0.65–1.00). In the cross-sectional analysis of patient-reported outcomes, there was an inferiority of 26 Gy compared to 40 Gy only for the item "breast swollen" (RR 2.75, 95% CI 1.17–6.46).
Incidence of symptomatic lung fibrosis and ischemic heart disease was low, without obvious differences between the treatment arms.
While the authors are to be congratulated for these two well-designed and thoroughly conducted trials, there are several limitations that are worth mentioning.
The FAST-Forward trial did allow for boost irradiation, which was applied as a sequential boost with 5–8 fraction of 2 Gy. A tumor bed boost was given to all patients under 40 years and to patients aged 40–59 years with adverse risk factors, such as grade 3 and/or lymphovascular invasion. Generally, no boost was given to patients aged ≥ 60 years. The authors reason that it was prudent not to change both fractionation of whole-breast and boost irradiation at the same time and that this was handled in a similar manner in the START trials. Nonetheless, it seems odd to double the overall treatment time to deliver a tumor bed boost in 2 Gy fractions to a much smaller volume. Although patients who had a mastectomy were eligible for the trial, less than 300 patients in each arm were enrolled. Thus, no relevant conclusions can be drawn for this subgroup.
Both trials were not powered for subgroup analysis regarding local recurrence due to the low number of events. Thus, it remains unclear whether the results can be safely applied to all biological and clinical subgroups. Regional nodal irradiation was not permitted in the initial trial design. However, results from a subsequent sub-study of FAST-Forward comparing ultra-hypofractionation to 40 Gy in 15 fractions for patients with an indication for regional nodal irradiation are pending.
Re-analysis of the FAST-Forward data regarding late toxicity
Discussion
The important question is: does this constitute a new standard of care? There are several aspects to consider, most importantly tumor control and toxicity.
Conclusions
Based on the results of FAST and FAST-Forward, adjuvant whole-breast radiotherapy in 5 fractions should be used with caution in patients with a favorable long-term prognosis. However, it may be regarded as an additional option in the radiation oncology armamentarium, especially in elderly frail patients and in settings with limited health care resources. Nevertheless, in light of the excellent results of adjuvant breast cancer treatment nowadays, the bar is set high and a reduction in overall treatment time of two weeks should generally not be the only motivation to adopt a new standard of care. Tumor control and toxicity remain pivotal in the consideration of treatment options. Thus, shared-decision making regarding ultra-hypofractionated whole-breast radiotherapy in 5 fractions should include a discussion of residual uncertainties regarding long-term tumor control and a potential increase in late toxicity. To date, ultra-hypofractionated radiotherapy should not be used in patients who underwent mastectomy or who require regional nodal irradiation. Furthermore, in the absence of further data, caution is advised in young patients and patients with connective tissue diseases.
Conflict of interest
D. Krug has received honoraria from Merck Sharp & Dome, outside of the submitted work. J. Dunst is the principal investigator of the HYPOSIB trial. F. Sedlmayer is the principal investigator of the HIOB trial and has received a research grant from IntraOP Medical for the conduct of the trial. All authors, D. Krug, R. Baumann, S.E. Combs, M.N. Duma, J. Dunst, P. Feyer, R. Fietkau, W. Haase, W. Harms, T. Hehr, M.D. Piroth, F. Sedlmayer, R. Souchon, V. Strnad and W. Budach, are members of the German Society for Radiation Oncology (DEGRO).
Open Access
This article is licensed under a Creative Commons Attribution 4.0 International License, which permits use, sharing, adaptation, distribution and reproduction in any medium or format, as long as you give appropriate credit to the original author(s) and the source, provide a link to the Creative Commons licence, and indicate if changes were made. The images or other third party material in this article are included in the article's Creative Commons licence, unless indicated otherwise in a credit line to the material. If material is not included in the article's Creative Commons licence and your intended use is not permitted by statutory regulation or exceeds the permitted use, you will need to obtain permission directly from the copyright holder. To view a copy of this licence, visit
http://​creativecommons.​org/​licenses/​by/​4.​0/​
.