01.12.2018 | Case report | Ausgabe 1/2018 Open Access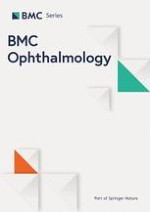 Multimodal imaging of foveoschisis and macular pseudohole associated with gyrate atrophy: a family report
Zeitschrift:
Autoren:

Imène Zhioua Braham, Imen Ammous, Rim Maalej, Majdi Boukari, Ilhem Mili Boussen, Khalil Errais, Raja Zhioua
Abstract
Background
To report the results of multimodal imaging of a biochemically confirmed case of a family with gyrate atrophy (GA) associated with foveoschisis and macular pseudohole.
Case presentation
Two sisters presented to us with progressive bilateral decreased vision. The 26-year old sister had a best corrected visual acuity (BCVA) of 20/32 in the right eye (RE) and 20/100 in the left eye (LE). Dilated fundus examination revealed multiple bilateral chorioretinal atrophy areas in the midperipheral and peripheral retina. Fluorescein angiography did not show any leak in the macular area. Swept-source optical coherence tomography (SS-OCT) showed increased central macular thickness in both eyes with foveoschisis. Optical coherence tomography angiography (OCTA) showed petaloid non-reflective areas and some perifoveal microvascular alterations similar to telangiectasias in the deep capillary complex. The 30-year-old sister had a BCVA of 20/20 in the RE and 20/32 in the LE. SS-OCT was normal in the RE and demonstrated a macular pseudohole with a fine epiretinal membrane in the LE. The persistent retinal tissue at the base of the pseudohole was disorganised. Blood tests showed hyperornithinemia in the 2 cases. Based on these observations, the patients were diagnosed with gyrate atrophy of the choroid and retina and were treated with a pyridoxine supplement and an arginine-restricted diet.
Conclusions
Foveoschisis and macular pseudohole may be associated in GA, increasing the risk of rapid vision loss. OCTA is an interesting imaging tool that can help to better understand the pathophysiological mechanism of these macular involvements in GA.