01.12.2017 | Research article | Ausgabe 1/2017 Open Access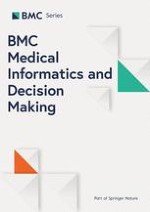 Multiple constraints compromise decision-making about implantable medical devices for individual patients: qualitative interviews with physicians
Zeitschrift:
Autoren:

Anna R. Gagliardi, Ariel Ducey, Pascale Lehoux, Thomas Turgeon, Jeremy Kolbunik, Sue Ross, Patricia Trbovich, Anthony Easty, Chaim Bell, David R. Urbach
Wichtige Hinweise
Electronic supplementary material
Abstract
Background
Little research has examined how physicians choose medical devices for treating individual patients to reveal if interventions are needed to support decision-making and reduce device-associated morbidity and mortality. This study explored factors that influence choice of implantable device from among available options.
Methods
A descriptive qualitative approach was used. Physicians who implant orthopedic and cardiovascular devices were identified in publicly available directories and web sites. They were asked how they decided what device to use in a given patient, sources of information they consulted, and how patients were engaged in decision-making. Sampling was concurrent with data collection and analysis to achieve thematic saturation. Data were analyzed using constant comparative technique by all members of the research team.
Results
Twenty-two physicians from five Canadian provinces (10 cardiovascular, 12 orthopedic; 8, 10 and 4 early, mid and late career, respectively) were interviewed. Responses did not differ by specialty, geographic region or career stage. Five major categories of themes emerged that all influence decision-making about a range of devices, and often compromise choice of the most suitable device for a given patient, potentially leading to sub-optimal clinical outcomes: lack of evidence on device performance, patient factors, physician factors, organizational and health system factors, and device and device market factors. In the absence of evidence from research or device registries, tacit knowledge from trusted colleagues and less-trusted industry representatives informed device choice. Patients were rarely engaged in decision-making. Physician preference for particular devices was a barrier to acquiring competency in devices potentially more suitable for patients. Access to suitable devices was further limited to the number of comparable devices on the market, local inventory and purchasing contract specifications.
Conclusions
This study revealed that decision-making about devices is complex, cognitively challenging and constrained by several factors limiting access to and use of devices that could optimize patient outcomes. Further research is needed to assess the impact of these constraints on clinical outcomes, and develop interventions that optimize decision-making about device choice for treating given patients.