01.12.2016 | Research article | Ausgabe 1/2016 Open Access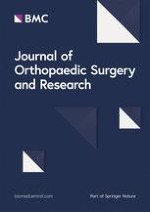 New classification of lunate fossa fractures of the distal radius
Zeitschrift:
Autoren:

Jun Zhang, Xin ran Ji, Ye Peng, Jian tao Li, Li hai Zhang, Pei fu Tang
Abstract
Background
A die-punch fracture is a depression fracture of the lunate fossa of the distal radius. We propose a morphological classification of die-punch fractures that includes five types: center depression fractures, vertical depression fractures, volar depression fractures, dorsal depression fractures, and double die-punch fractures.
Methods
The radiographs of 112 die-punch fractures treated between January 2005 and January 2015 were retrospectively reviewed. The clinical images were examined independently for two rounds by six orthopedists with different clinical experiences: two residents, two attending physicians, and two consultants. A category-specific kappa score and a kappa score for more than two observers were analyzed. We used Cohen's kappa to test intraobserver variation.
Results
The kappa score for interobserver reliability was 0.69 for the first round and 0.70 for the second round. The intraclass correlations were 0.65 and 0.63, respectively. Intraobserver reproducibility using Cohen's kappa test was satisfactory. All of the results indicated a kappa value >0.4, suggesting good agreement within, as well as between, observers.
Conclusions
The outcome was assessed using kappa statistics, which showed good interobserver reliability and intraobserver reproducibility.