01.12.2018 | Research article | Ausgabe 1/2018 Open Access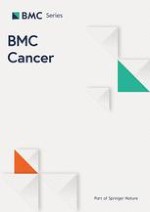 NLRP3 promotes tumor growth and metastasis in human oral squamous cell carcinoma
Zeitschrift:
Autoren:

Han Wang, Qingqiong Luo, Xiaodong Feng, Ruiyang Zhang, Jiang Li, Fuxiang Chen
Wichtige Hinweise
Electronic supplementary material
Abstract
Background
Inflammasomes are reported to be abnormally expressed and activated in several malignancies and play important roles in tumor development. The present study was designed to investigate the expression and function of the NLR family pyrin domain containing protein 3 (NLRP3) inflammasome in oral squamous cell carcinoma (OSCC).
Methods
NLRP3 expression in OSCC cell lines and the normal human immortalized oral epithelial cells (HIOEC) was determined by real-time PCR and western blot. Immunohistochemistry was used to examine the expression of NLRP3 and IL-1β in the paraffin-embedded OSCC tissues. The proliferation of OSCC cells was detected by the 3-(4,5-dimethylthiazol- 2-yl)-2,5-diphenyl tetrazolium bromide (MTT) assay and cell colony formation ability of the OSCC cells was also evaluated. Tumor cell migration or invasion was measured by the transwell assay and related protein markers were determined by western blot. A mouse xenograft model was established to investigate the OSCC tumor growth in vivo.
Results
Significant higher expression of NLRP3 was observed in the OSCC cells. Obvious expression of NLRP3 and IL-1β was found in the paraffin-embedded OSCC tissues, and the NLRP3 expression levels were correlated with the tumor size, lymphonode metastatic status and IL-1β expression. Downregulating NLRP3 expression markedly reduced the cleavage of caspase-1 and production of IL-1β in OSCC cells. NLRP3 knockdown also inhibited the proliferation, migration and invasion of OSCC cells. Further investigation indicated that expressions of E-cadherin and vimentin in OSCC cells were increased, while N-cadherin expression was decreased after NLRP3 knockdown. Downregulating NLRP3 expression in OSCC cells significantly reduced the tumor growth in vivo.
Conclusions
Our data suggested that the increased expression of NLRP3 in OSCC was associated with tumor growth and metastasis. NLRP3 may be considered as a potential target for OSCC therapy.