01.08.2017 | Original Article | Ausgabe 6/2017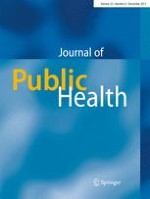 Obesity-based labour market discrimination in South Africa: a dynamic panel analysis
Zeitschrift:
Autoren:

Junita Henry, Umakrishnan Kollamparambil
Wichtige Hinweise
Electronic supplementary material
The online version of this article (doi:
10.​1007/​s10389-017-0822-3
) contains supplementary material, which is available to authorized users.
Abstract
Purpose
Apart from obesity-related health care costs in South Africa, obesity is also seen to have far-reaching effects that seep into labour market outcomes. Using National Income Dynamics Survey (NIDS) panel data, this study aims to examine the relationship between body mass index (BMI) and employment status as well as wage levels of individuals to identify the optimal level of BMI from the labour market perspective in South Africa. Thereafter, the article uses ethnicity-backed obesity thresholds to measure the discrimination obese individuals face on the probability of becoming employed and their wages earned once employed.
Methods
The econometric analysis uses the OLS probit and tobit regression models as the starting point for analysis. However due to issues of reverse causality, the analysis thereafter utilises a system GMM model to take endogeneity into account. A further Blinder-Oaxaca decomposition technique is used to derive the discrimination component in the system GMM regressions for obese and non-obese individuals. Finallly, gender-specific analysis is undertaken to investigate whether obesity-related discrimination differs between males and females.
Results
The relationship between BMI and employment probability/wages is seen to be non-linear with increases in BMI leading to an increase in the probability of employment and wages up to a threshold beyond which this relationship becomes negative. Based on the system GMM estimation, the optimal BMI for employment probability and wage determination is identified as 30 and 27 respectively. Blinder-Oaxaca estimates show that 90% of the gap in employment status is accounted for by obesity-related discrimination. With regard to wages, obesity leads to a discrimination of 186%. Gen1der-specific Oaxaca analysis found that obese females face discrimination in employment probability of 109% compared to a negative discrimination of −184% for obese males. In determining wages, employed obese females face discrimination of around 73% whereas the discrimination endured by employed obese males is half of this, at 35%.
Conclusion
Our findings reiterate that increasingly obesity has adverse labour market implications. Obesity-based discrimination exists in South Africa and is predominantly faced by obese women entering the workplace and continues in the wage determination of both men and women.