01.12.2017 | Research | Ausgabe 1/2017 Open Access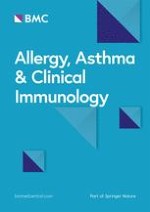 Observational long-term follow-up study of rapid food oral immunotherapy with omalizumab
Zeitschrift:
Autoren:

Sandra Andorf, Monali Manohar, Tina Dominguez, Whitney Block, Dana Tupa, Rohun A. Kshirsagar, Vanitha Sampath, R. Sharon Chinthrajah, Kari C. Nadeau
Wichtige Hinweise
Electronic supplementary material
Sandra Andorf and Monali Manohar contributed equally to this work
R. Sharon Chinthrajah and Kari C. Nadeau contributed equally to this work
Abstract
Background
A number of clinical studies focused on treating a single food allergy through oral immunotherapy (OIT) with adjunctive omalizumab treatment have been published. We previously demonstrated safety and tolerability of a rapid OIT protocol using omalizumab in a phase 1 study to achieve desensitization to multiple (up to 5) food allergens in parallel, rapidly (7–36 weeks; median = 18 weeks). In the current long-term, observational study, we followed 34 food allergic participants for over 5 years, who had originally undergone the phase 1 rapid OIT protocol.
Methods
After reaching the maintenance dose of 2 g protein for each of their respective food allergens as a part of the phase 1 study, the long-term maintenance dose was reduced for some participants based on a pragmatic team-based decision. Participants were followed up to 62 months through standard oral food challenges (OFCs), skin prick tests, and blood tests.
Results
Each participant passed the 2 g OFC to each of their offending food allergens (up to 5 food allergens in total) at the end of the long-term follow-up (LTFU) study.
Conclusion
Our data demonstrate the feasibility of long-term maintenance dosing of a food allergen without compromising the desensitized status conferred through rapid-OIT.
Trial registration
Registry: Clinicaltrials.gov. Registration numbers: NCT01510626 (original study), NCT03234764 (LTFU study). Date of registration: November 29, 2011 (original study); July 26, 2017 (LTFU study, retrospectively registered)