01.12.2017 | Research | Ausgabe 1/2017 Open Access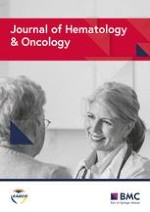 Observational study of lenalidomide in patients with mantle cell lymphoma who relapsed/progressed after or were refractory/intolerant to ibrutinib (MCL-004)
Zeitschrift:
Autoren:

Michael Wang, Stephen J. Schuster, Tycel Phillips, Izidore S. Lossos, Andre Goy, Simon Rule, Mehdi Hamadani, Nilanjan Ghosh, Craig B. Reeder, Evelyn Barnett, Marie-Laure Casadebaig Bravo, Peter Martin
Wichtige Hinweise
Electronic supplementary material
Background
The objective of this retrospective, observational, multicenter MCL-004 study (NCT02341781) was to evaluate the clinical effectiveness and safety of lenalidomide used as monotherapy and in combination regimens to treat patients with MCL who had relapsed/progressed to an ibrutinib-containing treatment (i.e., had an initial response of PR or better) or who were refractory to (i.e., best response of SD or worse) or unable to tolerate ibrutinib.
Methods
Patients
Harmonization E6 requirements (Good Clinical Practice) and ethical principles per the Declaration of Helsinki were followed. All aspects of the study were reviewed with the study investigators and staff; accuracy was confirmed through source data verification.
Inclusion criteria were age ≥ 18 years; MCL verified by investigator review of a pathology report; at least one dose (cycle 1, day 1) of ibrutinib (monotherapy or combination); and ibrutinib failure defined as relapse (CR followed by relapse at any time), PD (PR followed by PD at any time), refractory (PD, or stable disease [SD] followed by PD, while on ibrutinib), and/or intolerance (discontinuation of ibrutinib for reasons other than PD). Lenalidomide was not required to immediately follow ibrutinib.
Study design
After identifying MCL patients treated with or intending to take lenalidomide following ibrutinib failure, an informed consent document was completed by the patient (family member/legal representative if patient was deceased), or a waiver was granted from the Institutional Review Board or Ethics Committee (IRB/EC) if consent was deemed not necessary for data collection. Patients were then enrolled into the clinical database, and data were extracted from medical charts including demographic information, relevant medical history, baseline disease characteristics, date of initial MCL diagnosis with pathology report, prior therapies (including treatment dates and best response), ibrutinib and lenalidomide treatment dates and outcome, copy of imaging reports, date of last follow-up/disease status, documentation of adverse events (AEs), and date/cause of death. Patients were enrolled after meeting eligibility criteria. Non-retrospective data may have been collected when lenalidomide was ongoing at study entry.
The primary endpoint was ORR defined as achievement of CR or PR per 2007 International Working Group (IWG) response criteria [
31
]. When initial assessments used IWG 1999 criteria (i.e., unconfirmed CR [
32
]), the corresponding response per IWG 2007 was changed to PR. Patients without a response evaluation or had an unknown response were considered non-responders. The secondary endpoint was DOR (time from initial response to lenalidomide-based therapy of ≥PR to relapse/PD/death, whichever occurred first). Responding patients without PD/death at analysis were censored at the last assessment date.
Response and safety assessments
Time-to-event data were estimated using the Kaplan-Meier method [
33
]. Planned analyses were conducted for MCL subgroups of refractory (best response to ibrutinib of SD or worse), relapsed/PD (initial response to ibrutinib of ≥PR followed by PD), and those unable to tolerate ibrutinib (any reason other than lack of efficacy).
Available records of treatment-emergent AEs (TEAEs) with an onset date after lenalidomide initiation through 28 days after the last lenalidomide dose, regardless of causality, were analyzed in the safety population. AEs were classified according to the National Cancer Institute (NCI) Common Terminology Criteria for Adverse Events (CTCAE) version 4.03.
Statistical analysis
All efficacy evaluations were conducted in the eligible patients. Patients were grouped by first type of lenalidomide treatment received: single agent, in combination with rituximab, or in combination with other agents. The response rate probability was estimated using the proportion of responding patients with an exact two-sided 95% CI; a sample size of 30 patients would allow a two-sided 95% CI (lower boundary of 10%) for an expected proportion of 25%.
Results
Discussion
This multicenter observational study examined outcomes with lenalidomide treatment in patients with MCL who had relapsed or progressed after or during ibrutinib therapy or were intolerant to ibrutinib. Most patients had received three or more prior lines of treatment and had discontinued ibrutinib due to a lack of efficacy. Most patients (79%) had previously received ibrutinib as a monotherapy. The ORR of 45% and median DOR of 4.3 months were lower than in previous clinical trials of ibrutinib monotherapy for relapsed/refractory MCL; there were also a higher number of prior regimens in the current study [
34
,
35
]. These factors suggest a higher-risk cohort and a potential negative impact on response to subsequent therapy, including lenalidomide. Nonetheless, lenalidomide-based treatment demonstrated meaningful clinical activity in this difficult-to-treat patient population, as demonstrated by a 29% ORR and 14% CR, with a 20-week (95% CI, 2.9 to not available) median DOR. For the DOR analysis, it should be noted that because 82% of responders were censored, the data should be interpreted with caution. With no new safety signals identified, the safety profile in these patients matched the well-established safety shown in multiple studies of lenalidomide monotherapy [
22
–
28
].
Prior studies have shown that lenalidomide treatment had significant clinical activity in relapsed/refractory MCL. The MCL-001 EMERGE study reported a 28% ORR (including 8% CR/CR unconfirmed) and 16.6-month DOR with lenalidomide monotherapy in 134 patients with relapsed/refractory MCL after bortezomib treatment. Patients from MCL-001 had received a median of four prior treatment regimens, and 88% had been treated with at least three prior systemic antilymphoma therapies [
26
]. A UK study reported a 31% ORR, 8% CR, and 22.2-month median DOR with single-agent lenalidomide (6 cycles at 25 mg/day followed by 15 mg/day lower maintenance dose) in 26 patients with relapsed/refractory MCL who had received a median of three prior systemic therapies [
25
]. The lower DOR of < 5 months in the current study could be a result of ibrutinib resistance. In the randomized MCL-002 (SPRINT) study of 254 patients with relapsed/refractory MCL, the lenalidomide monotherapy group showed higher ORR (40 versus 11%;
P
< 0.001) compared with investigator's choice (monotherapy with chlorambucil, cytarabine, gemcitabine, fludarabine, or rituximab), respectively [
28
]. Median DOR was 16.1 months for lenalidomide and 10.4 months for the investigator's choice group. Lenalidomide in combination with rituximab (R
2
) has also shown activity in relapsed/refractory MCL. In a phase I/II dose-finding study, R
2
was well tolerated in MCL, and among 44 patients in phase II, ORR was 57% (CR 36%) and DOR was 18.9 months [
30
]. A phase II study of iNHL or MCL showed lenalidomide monotherapy followed by R
2
overcame rituximab resistance [
29
]. In the 14 patients with MCL, ORR after lenalidomide monotherapy and R
2
was 55% for each; DOR to R
2
was 22.1 months. Since responses to lenalidomide in the post-ibrutinib setting are not durable, early referral for allogeneic hematopoietic stem cell transplantation (allo-HCT) should be strongly considered for responding MCL patients without advanced comorbidities [
36
–
38
].
There are several limitations to the study, including the retrospective nature of chart review and limited follow-up, which contribute to censoring patients for time-to-event statistics such as DOR. The prevalence of AEs may also be underestimated due to possible under-reporting or other uncontrolled factors such as pre-existing events. Safety summary tables were generated with the expectation of missing data (e.g., grade, treatment-relatedness, seriousness) that might limit the safety analysis. Because of the heterogeneity of regimens combined with lenalidomide, it is difficult to confidently discern the amount of response due to lenalidomide versus the other therapies used in combination, apart from two responses to lenalidomide monotherapy. The two responders to lenalidomide monotherapy represented only 12% of the 17 patients who responded on lenalidomide-containing therapy, further complicating delineation of the effects of lenalidomide with or without other therapies. It would also be beneficial to deduce which patients were previously refractory to rituximab.
As ibrutinib is being used more frequently for patients with MCL, the opportunity now arises to assess the role of other therapies following ibrutinib. Because multiple studies have shown that MCL patients with ibrutinib failure demonstrate poor outcomes with subsequent therapy [
16
,
17
]; it is critical to identify therapies that may provide activity in these patients. Multiple second-generation BTK inhibitors are being investigated to evaluate possible improvements in target specificity, potency, and tolerability through this pathway [
39
,
40
].
Conclusion
Results from this observational study indicate that lenalidomide-based therapy has clinically significant activity as a monotherapy and in combination regimens to treat heavily pretreated patients with refractory or relapsed MCL after ibrutinib therapy or who cannot tolerate ibrutinib, and thus, lenalidomide addresses an unmet medical need and widens the therapeutic options in a difficult-to-treat patient population.
Acknowledgements
The editorial support was provided by Bio Connections LLC and funded by Celgene Corporation. The authors directed the development of the manuscript and are fully responsible for all content and editorial decisions.
Funding
This study was supported by the Celgene Corporation, Summit, NJ.
Availability of data and materials
The material generated or analyzed during this study are included within the article and its supplementary information files.
Competing interests
MW reports research grants, honoraria, and nonfinancial support from Janssen, Acerta Pharma, Pharmacyclics, and Celgene; research grants and nonfinancial support from Kite Pharma; research grants from Juno Therapeutics, Amgen, Karyopharm Therapeutics, Asana BioSciences, BeiGene, Novartis, Oncoceutics, Oncternal Therapeutics, and Karus; and honoraria from BioInvent International and Adienne Pharma & Biotech.
SJS reports research funding from Celgene during the conduct of the study.
IL and TP declare that they have no competing interests.
AG reports research funding for the institution from, and was a consultant for, Celgene, Genentech, and Pharmacyclics/J&J and received honoraria from Celgene, Pharmacyclics/J&J, Acerta, and Takeda.
SR reports personal fees from Roche, Janssen, AstraZeneca, Celgene, Napp, AbbVie, and MSD.
MH was on the speaker's bureau for Celgene and Sanofi, received honorarium from Celgene, received research funding from Takeda and Sanofi, and was a consultant for Janssen R&D.
NG reports speaker's bureau and consultancy for Celgene, Gilead, and AbbVie; speaker's bureau, consultancy, and research funding for PCYC and Janssen; consultancy and research funding for SGN; research funding for Genentech; and consultancy and research funding for TG Therapeutics.
CBR reports research funding from Celgene, Millennium, and Novartis.
MLCB and EB are employees of Celgene Corporation.
PM reports personal consulting fees from Celgene and Janssen/Pharmacyclics.
Publisher's Note
Springer Nature remains neutral with regard to jurisdictional claims in published maps and institutional affiliations.
Open Access
This article is distributed under the terms of the Creative Commons Attribution 4.0 International License (
http://​creativecommons.​org/​licenses/​by/​4.​0/​
), which permits unrestricted use, distribution, and reproduction in any medium, provided you give appropriate credit to the original author(s) and the source, provide a link to the Creative Commons license, and indicate if changes were made. The Creative Commons Public Domain Dedication waiver (
http://​creativecommons.​org/​publicdomain/​zero/​1.​0/​
) applies to the data made available in this article, unless otherwise stated.