14.01.2016 | Knee | Ausgabe 8/2017 Open Access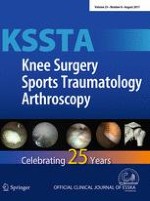 One-step surgery with multipotent stem cells and Hyaluronan-based scaffold for the treatment of full-thickness chondral defects of the knee in patients older than 45 years
Zeitschrift:
Autoren:

Alberto Gobbi, Celeste Scotti, Georgios Karnatzikos, Abhishek Mudhigere, Marc Castro, Giuseppe M. Peretti
Wichtige Hinweise
The original version of this article was revised due to a retrospective Open Access order.
Abstract
Purpose
The aim of this study is to prospectively evaluate the medium-term effectiveness and regenerative capability of autologous adult mesenchymal stem cells, harvested as bone marrow aspirate concentrate (BMAC), along with a hyaluronan-based scaffold (Hyalofast) in the treatment of ICRS grade 4 chondral lesions of the knee joint, in patients older than 45 years.
Methods
A study group of 20 patients with an age >45 years (mean 50.0 ± 4.1 years) was compared to a control group of 20 patients with an age <45 years (mean 36.6 ± 5.0). Patients were prospectively evaluated for 4 years. All patients were evaluated with MRI, KOOS, IKDC, VAS and Tegner scores preoperatively and at two-year and final follow-up.
Results
At final follow-up, all scores significantly improved (
P
< 0.001) as follows: all KOOS score categories; Tegner 2 (range 0–4) to 6 (range 4–8) and 3 (range 0–6) to 6 (range 3–10); IKDC subjective (39.2 ± 16.5 to 82.2 ± 8.9) and (40.8 ± 13.9 to 79.4 ± 14.6), in the study and control group respectively. In addition, we show that results are affected by lesion size and number but not from concomitant surgical procedures. MRI showed complete filling in 80 % of patients in the study group and 71 % of patients in the control group. Histological analysis conducted in three patients from the study and two patients from the control group revealed good tissue repair with a variable amount of hyaline-like tissue.
Conclusion
Treatment of cartilage lesions with BMAC and Hyalofast is a viable and effective option that is mainly affected by lesion size and number and not by age. In particular, it allows to address the >45 years population with functional outcomes that are comparable to younger patients at final follow-up.
Level of evidence
Prospective cohort study, Level II.