12.08.2016 | Original Contributions | Ausgabe 3/2017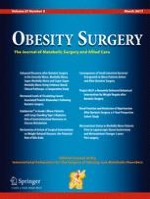 Optimal Cefazolin Prophylactic Dosing for Bariatric Surgery: No Need for Higher Doses or Intraoperative Redosing
Zeitschrift:
Autoren:

Xing Chen, Collin E. M. Brathwaite, Alexander Barkan, Keneth Hall, Gloria Chu, Patricia Cherasard, Shan Wang, David P. Nicolau, Shahidul Islam, Burke A. Cunha
Abstract
Purpose
The goal of this pharmacokinetic (PK) study was to evaluate whether a single 2-g prophylactic dose of cefazolin given (IV) bolus provides effective protective cefazolin levels for prophylaxis against methicillin-sensitive
S. aureus
(MSSA), the primary skin pathogen in bariatric surgery.
Materials and Methods
Thirty-seven patients having gastric bypass or sleeve gastrectomy received cefazolin 2-g preoperative prophylaxis. Serum, subcutaneous adipose tissue, and deep peri-gastric adipose tissue specimens were collected at incision and before skin closure. Cefazolin concentrations in serum and adipose tissue were determined by high-performance liquid chromatography.
Results
Penetration of cefazolin, a water soluble antibiotic, into adipose tissue was only 6–8 % of simultaneous serum levels. However, cefazolin tissue concentrations in all adipose tissue specimens, exceeded mean MIC for MSSA.
Conclusions
Prophylactic cefazolin, given as a single 2 g (IV bolus 3–5 min before skin incision) was more than adequate in providing protective cefazolin levels for the duration of bariatric surgery. Cefazolin 2 g (IV dose bolus given just before skin incision) achieves protective adipose tissue levels (> MIC of MSSA) for the duration (usually < 4 h) of bariatric surgical procedures. In this study, cefazolin 2 g (IV bolus) provided protective adipose tissue levels for 4.8 h. Since cefazolin is a water soluble antibiotic (
V
d
= 0.2 L/Kg), penetration into adipose tissue is not
V
d
not dose-dependent. Extremely high-dosed cefazolin, i.e., 3 or 4 g is excessive and unnecessary for bariatric surgery prophylaxis. A single cefazolin 2 g preoperative dose also eliminates the need for intraoperative redosing at 4 h.