01.12.2019 | Case report | Ausgabe 1/2019 Open Access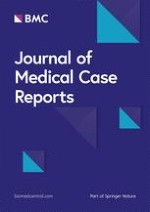 Ovarian abscess caused by
Salmonella enterica

serovar Typhi: a case report
Zeitschrift:
Autoren:

Aneley Getahun S., Josese Limaono, Raween Ligaitukana, Orisi Cabenatabua, Vika Soqo, Raape Diege, Mikaele Mua
Wichtige Hinweise
Publisher's Note
Springer Nature remains neutral with regard to jurisdictional claims in published maps and institutional affiliations.
Abstract
Background
Typhoid fever is a human-specific disease caused by a bacterium,
Salmonella enterica
subspecies
enterica
serovar Typhi. It is transmitted through ingestion of contaminated food or water. It is mostly diagnosed by blood culture.
Salmonella
Typhi usually manifests as a febrile illness with bacteremia after initial entry through the gastrointestinal route, but it can occasionally cause significant disease in extraintestinal sites. We report a case of a girl in Fiji with a right ovarian abscess infected by
Salmonella
Typhi.
Case presentation
A 14-year-old iTaukei (indigenous Fijian) girl presented to our hospital with abdominal pain of 1 month's duration. Two days prior to her admission, she developed high-grade fever and nausea and had one episode of vomiting. On presentation, she appeared unwell; she was tachycardic (116 beats per minute) and febrile (38.8 °C). Her abdominal examination revealed generalized tenderness. Other examination findings were normal. The provisional diagnosis of abdominal sepsis led to an emergency laparotomy during which an enlarged right ovary was found to be spontaneously discharging pus. The ovary was incised and drained, and the patient was commenced on intravenous ceftriaxone 1 g twice daily, cloxacillin 1 g four times daily, and metronidazole 500 mg three times daily. She recovered promptly and was discharged to home on the sixth postoperative day. The purulent material from the ovary grew
Salmonella
Typhi.
Conclusion
Extraintestinal infections caused by
Salmonella
Typhi are rare but can cause severe and life-threatening disease. Our patient had a prolonged history of abdominal pain and was found to have a ruptured right ovarian abscess due to
Salmonella
Typhi. Ovarian abscesses in girls who are not sexually active are not associated with pelvic inflammatory disease and suggest local or hematogenous spread. This case report may increase health workers awareness to include common and endemic infections in the differential diagnosis of unusual clinical presentations to help the initiation of appropriate investigation and management as quickly as possible.