01.12.2017 | Case Report | Ausgabe 1/2017 Open Access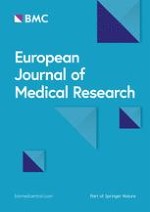 Ovarian mucinous borderline tumor accompanied by LGESS with myxoid change: a case report and literature review
Zeitschrift:
Autoren:

Wen Wang, Yalin Zhuang, Feng Zhou, Lili Huang
Abbreviations
LGESS
low-grade endometrial stromal sarcoma
MRI
magnetic resonance imaging
CD10
cluster of differentiation 10
SLMN
sarcoma-like mural nodules
MMMT
malignant mixed Müllerian tumor
Background
Mucinous cystic tumors of the ovary, whether benign, borderline, or malignant, may be associated with mural nodules of various types, including sarcomas, sarcoma-like mural nodules, foci of anaplastic carcinoma, carcinosarcoma, mixed nodules, and leiomyomas [
1
,
2
]. The subject of this report is a mural nodule with features of a low-grade endometrial stromal sarcoma (LGESS) with myxoid change arising in an ovarian mucinous borderline tumor. To our knowledge, there are no reports of mucinous ovarian tumors accompanied by LGESS with myxoid change.
Case report
A 42-year-old woman complained of lower left abdominal fullness. Her serum carcinoembryonic antigen (CEA), cancer antigen (CA) 125, and CA19-9 levels were within normal limits. Magnetic resonance imaging (MRI) showed a 10-cm cystic mass at the pelvic cavity with a 5-cm nodule in its wall. The laparoscopy showed a 10-cm cystic mass at the left adnexa. The right ovary and uterus were grossly normal. The patient underwent left salpingo-oophorectomy and adhesiolysis. The patient was symptom free 10 months after surgery.
Taking into account the above features, we made the diagnosis as ovarian mucinous borderline tumor accompanied by LGESS with myxoid change involving the tubal fimbria.
Discussion
The differential diagnosis for extrauterine LGESS depends on the location of the tumor. In case of ovarian location, ovarian sex cord–stromal tumors should be excluded. The pathological and morphological characteristics and immunohistochemical findings in the present case do not favor ovarian sex cord–stromal tumors. LGESS with myxoid change can be confused with myxoid smooth muscle lesions, but the "tonguelike" infiltration and small arterioles, along with the CD10 immunostaining and muscle marker negativity, will usually resolve the diagnosis.
In this case, there was a region of proliferation of large mononucleated cells just beneath the epithelium without forming a true nodule, which may help explain the occurrence of malignant mural nodules. We hypothesize the forming process of this sarcoma as follows. The submesothelial mesenchymal cells reacted to the intramural hemorrhage or the mucinous content of the cyst, which eventually became a hyperplastic nodule, probably corresponding to the earlier stage of the SLMNs. Then the proliferation of mesenchymal cells resulted in the sustained expansion of the lesion. The nodule enlarged gradually and became SLMNs. Some of the SLMNs could possibly evolve into a true sarcoma with the proliferation and differentiation of mesenchymal cells.
Conclusions
We have presented a rare case of sarcoma-like mural nodule. Based on the ample evidence of the previous reports, and the immunohistochemical analysis of our case, we believe that this is a collision tumor with two different elements and may be formed by SLMN malignant change. Nevertheless, further molecular and genetic evidence is needed to support such a conclusion.
Authors' contributions
All authors made substantial contributions to conception and design, or acquisition of data, or analysis and interpretation of data; WW and ZY were involved in drafting the manuscript and revising it critically for important intellectual content; ZF gave final approval to the version to be published. All authors read and approved the final manuscript.
Acknowledgements
Not applicable.
Competing interests
The authors declare that they have no competing interests.
Availability of data and materials
The datasets generated during and/or analyzed during the current study are available from the corresponding author on reasonable request.
Consent for publication
Written informed consent was obtained from the patient for publication of this case report and any accompanying images.
Ethics approval and consent to participate
This study was approved by the ethics committee of the Women's Hospital, School of Medicine Zhejiang University.
Funding
This work was supported by the program for Zhejiang Provincial Natural Science Foundation, P. R. China (No. LY12H04011).
Publisher's Note
Springer Nature remains neutral with regard to jurisdictional claims in published maps and institutional affiliations.
Open Access
This article is distributed under the terms of the Creative Commons Attribution 4.0 International License (
http://​creativecommons.​org/​licenses/​by/​4.​0/​
), which permits unrestricted use, distribution, and reproduction in any medium, provided you give appropriate credit to the original author(s) and the source, provide a link to the Creative Commons license, and indicate if changes were made. The Creative Commons Public Domain Dedication waiver (
http://​creativecommons.​org/​publicdomain/​zero/​1.​0/​
) applies to the data made available in this article, unless otherwise stated.