01.12.2018 | Case report | Ausgabe 1/2018 Open Access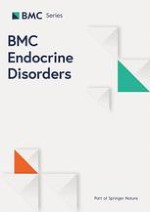 Papillary thyroid carcinoma with pleomorphic tumor giant cells in a pregnant woman – a case report
Zeitschrift:
Autoren:

Johan O. Paulsson, Jan Zedenius, C. Christofer Juhlin
Abstract
Background
Papillary thyroid carcinoma with pleomorphic tumor giant cells (PTC-PC) is characterized by the occurrence of bizarre, pleomorphic cells within a small area of a conventional PTC. The histologic distinction between PTC-PC and PTC's with a focal anaplastic thyroid cancer (ATC) component (denoted in the 2004 WHO classification as "papillary thyroid carcinoma with spindle and giant cell carcinoma", PTC-SGC) is debated, however the prognosis is thought to be different (excellent for PTC-PC, poor for PTC-SGC). Therefore, this diagnostic challenge is significant for any endocrine pathologist to recognize. Herein, we report the histological and clinical workup of a PTC-PC case, with particular focus on the molecular analyses that facilitated the establishment of the final diagnosis.
Case presentation
The patient was a pregnant, 28-year-old female presenting with a 30 mm conventional PTC, with focal areas with undifferentiated cells exhibiting exaggerated nuclear pleomorphism. No foci of extrathyroidal extension, angioinvasion or lymph node engagement were seen. Immunohistochemical analyses revealed the pleomorphic cells exhibiting retained differentiation. Molecular genetic analyses demonstrated a codon V600 missense mutation of the
BRAF
gene, but no
TP53
or
TERT
promoter mutations. The absence of an aggressive phenotype in addition to the lack of mutations in two major ATC-related genes led to the diagnosis of a PTC-PC. Postoperative MRI showed no evidence of metastatic disease. Radioiodine ablation was performed seven months post-operatively, and a SPECT-CT imaging did not show signs of residual tissue. She is well and without signs of disease 16 months post-operatively.
Conclusions
PTC-PC is a differential diagnosis to PTC-SGC that mandates careful considerations. Taken together with previous publications, PTC-PC seems to be histologically similar to PTC-SGC, but clinically distinct. Even so, the distinction is not easily made given the different therapeutic consequences for each individual patient. This is the first report that includes molecular genetics to aid in finalizing the diagnosis. Exclusion of mutations in
TP53
and the
TERT
promoter could be considered as an adjunct tool when assessing papillary thyroid cancer with focal pleomorphism.