01.12.2012 | Review | Ausgabe 1/2012 Open Access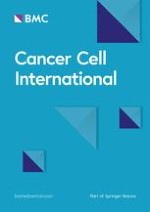 Pathobiology of cancer metastasis: a short account
Zeitschrift:
Autoren:

Liviu Feller, Beverley Kramer, Johan Lemmer
Wichtige Hinweise
Competing interests
The authors declare that they have no competing interests.
Authors' contribution
The concept of this paper was devised by LF. LF, BK and JL contributed equally to the intellectual input of the paper. All authors read and approved the final manuscript.
Abstract
Cancer-initiating cells display aberrant functional and phenotypic characteristics of normal stem cells from which they evolved by accumulation of multiple cytogenetic and/or epigenetic alterations. Signal transduction pathways which are essential for normal stem cell function are abnormally expressed by cancer cells, with a cancer cell phenotype playing an essential role in cancerization and metastasis.
Local tumour progression, metastasis and metastatic tumour growth are mediated by direct cell-to-cell and paracrine reciprocal interactions between cancer cells and various stromal cells including fibroblasts, macrophages, bone marrow derived stem cells and progenitor cells. These interactions mediate breakdown of basement membrane barriers and angiogenesis both locally at the invasive front of the primary tumour and at the distant metastatic site; attract primary tumour cells to the candidate metastatic site; and promote proliferation, survival and growth of primary tumour cells and of metastatic cells at their distant site.
It is the purpose of this article to highlight the analogies between some of the genetic programs of normal stem cells, and of cancer cells participating in the process of metastasis.