01.12.2012 | Study protocol | Ausgabe 1/2012 Open Access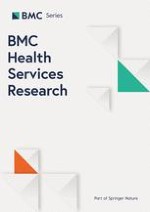 Patient anxiety and concern as predictors for the perceived quality of treatment and patient reported outcome (PRO) in orthopaedic surgery
Zeitschrift:
Autoren:

Randi Bilberg, Birgitte Nørgaard, Søren Overgaard, Kirsten Kaya Roessler
Wichtige Hinweise
Competing interests
The authors declare that they have no competing interests.
Authors' contributions
All the authors have contributed to the article, but RB is the main responsible for the article. RB, SO, BN, KR: Study conception and design. RB: Data collection. RB: Data analysis. RB: Drafting of manuscript. SO, BN, KR: Critical revisions of manuscript for important intellectual content. RB: Obtaining funding. SO, BN, KR: Supervision. Other. All authors read and approved the final manuscript.
Abstract
Background
Previous studies have shown that patients' anxiety and dissatisfaction are predictors for increased postoperative pain and reduced efficacy of pain treatment. However, it remains to be shown whether patient anxiety and concern are predictors for the perceived quality of treatment and patient reported outcome (PRO).
The aim of this study is to investigate whether there is a correlation between preoperative anxiety and concern, and the perceived quality of postoperative treatment and outcome. The hypothesis is that anxious and concerned patients are less satisfied with treatment and have a poorer outcome.
Methods/design
This study is designed as a prospective follow-up study and has the aim of investigating the correlation between patient anxiety and concern, patients´ perceived quality of treatment and outcome. This correlation will be detected using five questionnaires: CMD-SQ (Common Mental Disorders Screening Questionnaire), EuroQol 5 Dimensions (EQ-5D), Short form 12 (SF-12), "What is your evaluation of the patient progress in the Department of Orthopaedic Surgery?" (HVOK), Questionnaire for patients who have had hip surgery (RCS) and Oxford Hip Score (OHS) or Oxford Shoulder Score (OSS). The patients will complete the above mentioned questionnaires preoperatively in the outpatient department, and postoperatively just before discharge from the inpatient department, and 12 and 52 weeks after the operation. The study includes a reliability test of CMD-SQ regarding this specific population and tested by means of a Kappa. A total of 500 hip- and shoulder-patients will be included from October 2010 till October 2011.
Discussion
If a correlation between patient anxiety and concern, patients´ perceived quality of treatment and patient reported outcome is found, it will be recommended to screen all hip- and shoulder-patients for anxiety and concern preoperatively. Besides, it would be relevant to carry out investigations of possible interventions towards anxious and concerned patients.
Trial registration
Current Controlled Trials: NCT01205295