01.11.2017 | Original Paper | Ausgabe 1/2018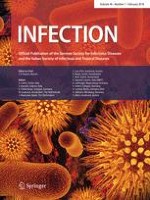 Pertussis and parapertussis in children and adults with a persistent cough: an observational study
Zeitschrift:
Autoren:

Piia Jõgi, Marje Oona, Tanel Kaart, Karolin Toompere, Tereza Maskina, Iris Koort, Anneli Rätsep, Irja Lutsar
Wichtige Hinweise
Members of the Pertussis Study Group of Estonia are listed in acknowledgements section.
Abstract
Purpose
We aimed to determine the prevalence, symptoms and course of pertussis and parapertussis among patients at any age with a cough of unknown aetiology that had lasted for ≥ 7 days and to assess the diagnostic value of the symptoms included in the World Health Organisations' (WHO) clinical case definition of pertussis.
Methods
Patients were enrolled between the 23 April 2012 and 31 December 2014 at 25 general practitioner (GP) centres and three paediatric hospitals. Pertussis was confirmed by culture and/or polymerase chain reaction (PCR) and/or quantitative serology. Parapertussis was confirmed by culture and/or PCR.
Results
Altogether, 549 patients were recruited. Of them, 22 (4.0%; 95% CI 2.5–6.0) had pertussis (predominately diagnosed by positive serology 17/22) and 7 (1.3%; 95% CI 0.5–2.6) had parapertussis. Patients with pertussis were more likely to have inspiratory whooping and posttussive emesis than those with a cough of another/unknown aetiology. However, the presence or absence of these two symptoms did not definitively confirm or exclude pertussis. The sensitivity and specificity of the WHO's clinical definition was 0.77 and 0.38, respectively.
Conclusions
The prevalence of pertussis and parapertussis among patients with a persistent cough of unknown aetiology in Estonia is low. As clinical symptoms alone cannot be used to distinguish pertussis, we recommend that laboratory testing for pertussis is performed in all patients with a persistent cough regardless of age.