05.12.2016 | PHASE I STUDIES | Ausgabe 2/2017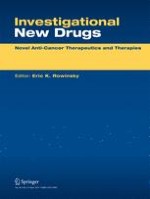 Phase I study of MRX34, a liposomal miR-34a mimic, administered twice weekly in patients with advanced solid tumors
Zeitschrift:
Autoren:

Muhammad S. Beg, Andrew J. Brenner, Jasgit Sachdev, Mitesh Borad, Yoon-Koo Kang, Jay Stoudemire, Susan Smith, Andreas G. Bader, Sinil Kim, David S. Hong
Wichtige Hinweise
Electronic supplementary material
The online version of this article (doi:
10.​1007/​s10637-016-0407-y
) contains supplementary material, which is available to authorized users.
Presented in part (preliminary results) at the 26th AACR-NCI-EORTC Symposium on Molecular Targets and Cancer Therapeutics, Barcelona, Spain, November 18–21, 2014, and the AACR-NCI-EORTC International Congress on Molecular Targets and Cancer Therapeutics, Boston, MA, November 5–9, 2015.
Summary
Purpose
Naturally occurring tumor suppressor microRNA-34a (miR-34a) downregulates the expression of >30 oncogenes across multiple oncogenic pathways, as well as genes involved in tumor immune evasion, but is lost or under-expressed in many malignancies. This first-in-human, phase I study assessed the maximum tolerated dose (MTD), safety, pharmacokinetics, and clinical activity of MRX34, a liposomal miR-34a mimic, in patients with advanced solid tumors.
Patients and Methods
Adult patients with solid tumors refractory to standard treatment were enrolled in a standard 3 + 3 dose escalation trial. MRX34 was given intravenously twice weekly (BIW) for three weeks in 4-week cycles.
Results
Forty-seven patients with various solid tumors, including hepatocellular carcinoma (HCC;
n
= 14), were enrolled. Median age was 60 years, median prior therapies was 4 (range, 1–12), and most were Caucasian (68%) and male (57%). Most common adverse events (AEs) included fever (all grade %/G3%: 64/2), fatigue (57/13), back pain (57/11), nausea (49/2), diarrhea (40/11), anorexia (36/4), and vomiting (34/4). Laboratory abnormalities included lymphopenia (G3%/G4%: 23/9), neutropenia (13/11), thrombocytopenia (17/0), increased AST (19/4), hyperglycemia (13/2), and hyponatremia (19/2). Dexamethasone premedication was required to manage infusion-related AEs. The MTD for non-HCC patients was 110 mg/m
2
, with two patients experiencing dose-limiting toxicities of G3 hypoxia and enteritis at 124 mg/m
2
. The half-life was >24 h, and C
max
and AUC increased with increasing dose. One patient with HCC achieved a prolonged confirmed PR lasting 48 weeks, and four patients experienced SD lasting ≥4 cycles.
Conclusion
MRX34 treatment with dexamethasone premedication was associated with acceptable safety and showed evidence of antitumor activity in a subset of patients with refractory advanced solid tumors. The MTD for the BIW schedule was 110 mg/m
2
for non-HCC and 93 mg/m2 for HCC patients. Additional dose schedules of MRX34 have been explored to improve tolerability.