01.12.2018 | Research article | Ausgabe 1/2018 Open Access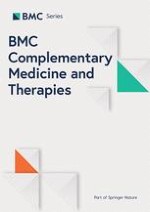 Phytochemical investigation and antimicrobial appraisal of
Parrotiopsis jacquemontiana (Decne)

Rehder
Zeitschrift:
Autoren:

Saima Ali, Muhammad Rashid Khan, Irfanullah, Moniba Sajid, Zartash Zahra
Abstract
Background
Parrotiopsis jacquemontiana (Decne)
Rehder. is locally used for skin infections and in wound healing. In this study we have evaluated methanol extract of its leaves and derived fractions against the clinical multi-drug resistant bacterial strains.
Methods
P. jacquemontiana
leaves powder extracted with 95% methanol (PJM) and fractionated in escalating polarity of solvents; n-hexane (PJH), chloroform (PJC), ethyl acetate (PJE), n-butanol (PJB) and the remaining as aqueous fraction (PJA). Clinical as well as environmental 19 bacterial strains and 8 fungal strains were screened for minimum inhibitory concentration (MIC) and minimum bactericidal/fungicidal concentration (MBC/MFC). Preliminary phytochemical investigation for various phytochemical classes was also carried out.
Results
PJM contained the coumarins, phenols, flavonoids, tannins, alkaloids, glycosides, saponins, sterols, phlobatannins, steroids, phytosterols, triterpenoids, acids, quinones, proteins, vitamin C, betacyanins, oils and resins while anthraquinones, phytosteroids, carbohydrates and anthocyanins were not detected. Disc diffusion assay (1 mg/disc) indicated the sensitivity of all the MDR strains of bacteria with PJM, PJE and PJB, while no inhibition was recorded with PJA. PJH and PJC inhibited the growth of all the strains of
Staphylococcus aureus
,
Pseudomonas aeruginosa
and
Coagulase negative staphylococci
used in this study
.
Maximum zone of inhibition (35.5 ± 1.32 mm) was obtained with PJM against
Staphylococcus lugdenesis
MDR (6197). Comparatively lower MIC (8-64 μg/ml) and MBC (32-256 μg/ml) values were recorded for PJM and PJE. In case of fungal strains only PJM, PJE and PJB markedly inhibited the growth and lower MIC (8-128 μg/ml) and MFC (32-512 μg/ml) values were determined for PJM and PJE.
Conclusion
The remarkable inhibition of various bacterial and fungal strains at low doses of the extract/fractions suggested the strong antibacterial, antifungal and anti-candidal potential of
P. jacquemontiana
leaves.