09.01.2020 | Original Communication | Ausgabe 4/2020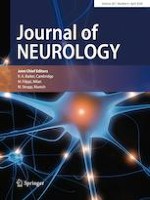 Placebo and nocebo phenomena in anti- CGRP monoclonal antibody trials for migraine prevention: a meta-analysis
Zeitschrift:
Autoren:

Lili Kokoti, Konstantina Drellia, Dimitrios Papadopoulos, Dimos D. Mitsikostas
Wichtige Hinweise
Electronic supplementary material
Lili Kokoti and Konstantina Drellia equal contribution.
Abstract
High placebo and low nocebo phenomena mirror high positive expectations for a novel treatment, among other reasons. In a meta-analysis aimed to identify placebo and nocebo phenomena in the placebo-controlled randomized trials (RCTs) with the monoclonal antibodies targeting the calcitonin gene-related peptide pathway (anti-CGRP mAbs) all the placebo-treated patients were pooled and compared with the placebo-treated patients in RCTs with topiramate and onabotulinum toxin A (OBTA). In episodic migraine (EM), the proportion of placebo-treated patients who achieved the 50% responder rate (placebo) was 32.7% (95% CI 28.6%–37.0%) in anti-CGRP mAbs vs. 24.4% (95% CI 20.5%–28.5%) in topiramate trials. The proportion of dropouts due to adverse events in placebo-treated patients (nocebo) was 1.9% (95% CI 1.4%–2.6%) in anti-CGRP mAbs vs. 9.9% (95% CI 7.7%–12.3%) in topiramate RCTs. In chronic migraine (CM), the placebo 50% responder rate was 23.6% (95% CI 11.2%–38.8%) in anti-CGRP mAbs RCTs vs. 36.4% (95% CI 32.6%–39.3%) in RCTs with OBTA. The nocebo dropout in anti-CGRP mAbs and OBTA RCTs was 1.4% (95% CI 0.8%–2.1%) and 0.9 (95% CI 0.3%–1.7%), respectively. The stronger placebo and weaker nocebo phenomena in RCTs with anti-CGRP mAbs vs. those with topiramate in the prophylaxis of EM, may decisively determine anti-CGRP mAbs treatment success. No differences were detected between the anti-CGRP mAbs and OBTA in the treatment of CM.