01.12.2016 | Review | Ausgabe 1/2016 Open Access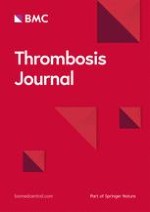 Pre-analytical issues in the haemostasis laboratory: guidance for the clinical laboratories
Zeitschrift:
Autoren:

A. Magnette, M. Chatelain, B. Chatelain, H. Ten Cate, F. Mullier
Background
This review aimed at summarizing recommendations with regard to the pre-analytical phase and provides some guidance to reduce the effects of biological factors that can have a significant impact on patient care.
Methods
A systematic review was conducted following the recommendations of the French Study Group on Haemostasis and Thrombosis (GFHT), the World Health Organization (WHO), the Clinical and Laboratory Standards Institute (CLSI) guidelines, the International Society on Thrombosis and Haemostasis (ISTH), the European Federation of Clinical Chemistry and Laboratory Medicine (EFLM) and the British Committee for Standard in Haematology (BCSH) about the pre-analytical phase and the pre-analytic variables which can have an impact on the quality of medical laboratory results and about the procedures for sample collection, processing, transportation, and storage in haemostasis testing.
The development of the present literature review was carried out using the PubMed database records including analysis of references from selected articles from 1991 to 2016 based on the following key-words: 'pre-analytical phase', 'pre-analytic variables', 'pre-analytical quality', 'preoperative/pre-operative tests', 'order of draw', 'phlebotomy', 'screening tests', 'routine tests', 'screening testing', 'hemostasis/haemostasis', 'coagulation tests', 'bleeding history', 'preoperative bleeding questionnaire', 'preoperative evaluation', 'bleeding risk', 'haemorrhage/hemorrhage', 'surgery', 'von Willebrand disease', 'von Willebrand factor', 'inherited bleeding disorders', 'bleeding score', 'quality', standardization', 'collection of blood', 'sample collection', 'tourniquet', 'samples', 'transportation', 'preparation', 'storage', 'recommendations', 'discard tubes', 'activated partial thromboplastin time, PTT, aPTT', 'prothrombin time, PT', 'international normalized ratio, INR', 'bleeding time', 'platelet count', 'platelet function testing', 'PFA-100', 'blood sampling', 'sample tubes', 'anticoagulant', 'order of filling the tubes', 'sampling process', 'processing of samples', 'transportation of samples', 'centrifugation', 'storage conditions', 'freezing', 'thawing'. Only articles in English or French were analysed. The database was searched for studies, clinical practice recommendations and literature reviews.
The findings of our search have been grouped into different subtopics. The first one is devoted to the clinical history, bleeding score and physical examination to demonstrate the importance of the patient's history regarding various diseases such as thrombotic diseases in case of haemorrhagic diathesis or preoperative assessment. The following chapters concern the sample collection and sequence of drawing blood. The last subtopics concern the sampling process, transportation and storage conditions.
Conclusion
Continuous monitoring and management of pre-analytical errors is crucial in order to improve the quality of the pre-analytical phase, which is essential for patient care. Standardization efforts are essential to control and prevent errors and to ensure the quality of exploration in haemostasis. They are also necessary for all clinical laboratories accredited by International Organization for Standardization (ISO) document 15189. The accurate standardization of the pre-analytical phase is of pivotal importance to achieve reliable results of coagulation tests.
Owing to the development of large laboratory networks and of decentralized phlebotomy services and analytical laboratories, standardized and unequivocal procedures and protocols are essential for sample collection, including patient preparation, specimen acquisition, handling and storage. These procedures are intended to prevent these problems and to protect against complications and patient mismanagement that could otherwise arise when specimens are not collected properly in order to achieve accurate and reliable coagulation measurements.
The effects of pre-analytical variables on the reliability and consistency of screening tests is often forgotten due to a lack of understanding and awareness. This can be improved by educating healthcare professionals who are involved in drawing blood for testing.
Acknowledgements
Not applicable.
Availability of data and materials
Not applicable.
Authors' contributions
AM and FM performed the review of the literature and designed the manuscript. AM drafted the manuscript. All authors read and approved the final manuscript.
Competing interests
The authors declare that they have no competing interests.
Consent for publication
Not applicable.
Ethics approval and consent to participate
Not applicable.
Open Access
This article is distributed under the terms of the Creative Commons Attribution 4.0 International License (
http://​creativecommons.​org/​licenses/​by/​4.​0/​
), which permits unrestricted use, distribution, and reproduction in any medium, provided you give appropriate credit to the original author(s) and the source, provide a link to the Creative Commons license, and indicate if changes were made. The Creative Commons Public Domain Dedication waiver (
http://​creativecommons.​org/​publicdomain/​zero/​1.​0/​
) applies to the data made available in this article, unless otherwise stated.