01.12.2017 | Research article | Ausgabe 1/2017 Open Access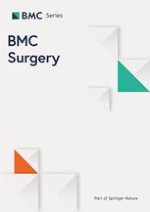 Preliminary experience with laparoscopic common bile duct exploration
Zeitschrift:
Autoren:

Asaad F. Salama, Mohamed E. Abd Ellatif, Hesham Abd Elaziz, Alaa Magdy, Hisham Rizk, Magdy Basheer, Wisam Jamal, Ibrahim Dawoud, Ayman El Nakeeb
Abstract
Background
Herein we present our experience with laparoscopic common bile duct exploration (LCBDE) in managing common bile duct stones.
Methods
Data of 129 consecutive patients who underwent laparoscopic cholecystectomy (LC) and LCBDE done at our institutes from April 2011 through June 2016 were prospectively recorded and retrospectively reviewed.
Results
Since 2011, 3012 laparoscopic cholecystectomy were performed at our institutes, intraoperative cholangiogram (IOC) was done in 295 (9.8%) patients which detected choledocholithiasis in 129 (4.3%) of them. LCBDE was successful to clear the common bile duct (CBD) in 123/129 (95.4%). Six patients underwent postoperative endoscopic retrograde cholangiopancreatography (ERCP) because of incomplete CBD clearance (4 cases), symptomatic stenosed papilla (2 cases). LCBDE was performed in 103 patients via trans-cystic approach and choledochotomy one in 26 patients. In the choledochotomy group, seven patients had primary closure of the CBD, CBD was closed over T-tube in nine patients whereas the remaining 10 patients the CBD was closed over antegrade inserted stent. The median time of hospital stay was 4 (range; 1–15) days. No patients showed retained CBD stones with mean follow up was 9 ± 3.4 months.
Conclusion
LCBDE is a safe and cost effective option for CBD stones in short-term outcome and can be performed provided proper laparoscopic expertise and facilities are available.