28.11.2016 | Original Research | Ausgabe 1/2017 Open Access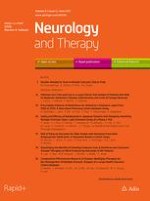 Prescription Patterns of Medications for Alzheimer's Disease in Japan from 2010 to 2015: A Descriptive Pharmacy Claims Database Study
Zeitschrift:
Autoren:

Kimiko Kadohara, Izumi Sato, Yuko Doi, Masaru Arai, Yosuke Fujii, Toshiyuki Matsunaga, Koji Kawakami
Abstract
Introduction
Although four kinds of Alzheimer's disease (AD) drugs are available at present there was only one drug until 2011 in Japan. This study aimed to elucidate prescription trends of these medications for AD in Japanese outpatients before and after the new drug releases in 2011.
Methods
This descriptive study of pharmacy claims databases analyzed outpatient prescription data from community pharmacies across Japan. The study patients were 20 years or older and first administered medications for AD (donepezil, memantine, rivastigmine, or galantamine) between January 2010 and September 2014. They were grouped on the basis of the year of their initial medications for AD administration into the 2010–2011 and 2012–2014 groups (1 and 2, respectively) and their characteristics and AD treatments were summarized by group. The subanalyses used a multivariable logistic regression model to examine the relationship between patient characteristics and discontinuation or change to combination therapy within a year.
Results
A total of 103,592 patients (group 1 and 2, 28,581 and 75,011, respectively) were prescribed medications for AD during the study period. The group 1 and 2 mean ± standard deviation (SD) ages were 79.6 ± 7.4 and 80.9 ± 7.3 years while female patients constituted 64.0% and 64.5%, respectively. Furthermore, in groups 1 and 2 patients, 99.0% and 94.3% received a medication for AD monotherapy, 92.3% and 59.6% were prescribed donepezil, and 40.5% and 41.5% discontinued treatment within a year, respectively. The subanalyses suggest that being at least 85 years old strongly correlated with treatment discontinuation and change to combination therapy within a year.
Conclusion
Although the prescription proportions of the various medications for AD have changed since 2011, no apparent changes occurred in the patient characteristics of those who initiated AD treatment between 2010–2011 and 2012–2014.