01.12.2018 | Protocol | Ausgabe 1/2018 Open Access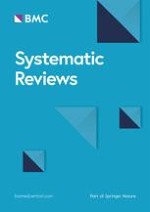 Prevalence and incidence of major depressive disorders among people living with HIV residing in Africa: a systematic review and meta-analysis protocol
Zeitschrift:
Autoren:

Jean Joel Bigna, Lewis N. Um, Serra Lem Asangbeh, Aurelie T. Sibetcheu, Arnaud D. Kazé, Jobert Richie Nansseu
Wichtige Hinweise
Electronic supplementary material
Abstract
Background
Depression represents one of the most frequent neuro-psychiatric diseases; it seems to be more prevalent in people living with HIV compared to the general population. However, summarized data in the African setting on the topic are scarce. This systematic review and meta-analysis aims at assessing the prevalence and incidence of major depressive disorders (MDD) in HIV-infected African populations residing in Africa.
Methods and design
This review will include observational studies conducted among HIV-infected people residing in Africa, which have reported either the prevalence or incidence of MDD or enough data for its appraisal. Relevant records will be searched using PubMed/Medline, EMBASE, African Journals Online, and Africa Index Medicus. In addition, reference lists of eligible papers and relevant review articles will be screened. Published studies from inception Jan 1, 2000 to Dec 31, 2017 will be considered regardless of language of publication. Two review authors will independently screen, select studies, and extract data, with discrepancies resolved by consensus or arbitration by a third review author. Methodological quality of included studies will be assessed using the scale developed by Hoy and colleagues. Funnel-plots and Egger's test will be used to determine publication bias. The study-specific estimates will be pooled through a random-effects meta-analysis model to obtain an overall summary estimate. The heterogeneity will be evaluated by the χ2 test on Cochrane's Q statistic. Results will be presented by geographical region and antiretroviral therapy status.
Discussion
This study is based on published data; therefore, ethical approval is not a requirement. The final report of this study in the form of a scientific paper will be published in a peer-reviewed journal and presented at scientific conferences. This review will help to have an overview of the burden of MDD among HIV-infected people residing in Africa.
Systematic review registration