03.01.2019 | Original Article | Ausgabe 5/2019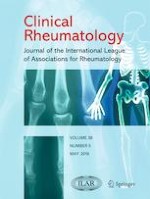 Prevalence and risk factors associated with hyperuricemia among working population at high altitudes: a cross-sectional study in Western China
Zeitschrift:
Autoren:

Yang Shen, Yanling Wang, Chun Chang, Suning Li, Weihao Li, Bingying Ni
Wichtige Hinweise
Publisher's Note
Springer Nature remains neutral with regard to jurisdictional claims in published maps and institutional affiliations.
Abstract
Chronic exposure to high altitude may lead to hyperuricemia. We investigated the prevalence of hyperuricemia and its risk factors among employees in high-altitude areas. A cross-sectional survey with cluster sampling was performed at 23 worksites on the Qinghai-Tibet Plateau. Subjects were evaluated by using questionnaires, anthropometric and laboratory measurements, and abdominal ultrasound. A multilevel logistic regression model and restricted cubic spline were used to explore the associated factors of hyperuricemia. Of the 4198 employees included in the study, the age-standardized prevalence of hyperuricemia was 28.1% (95% confidence interval (CI) 26.7–29.5), with 31.9% (95%CI 30.2–33.6) in men and 17.9% (95%CI 15.7–20.1) in women. Hypertension, hyperlipidemia, and a meat-food pattern were positively associated with hyperuricemia in both sexes, while diabetes, shift work, body mass index, non-alcoholic fatty liver disease, and low intake of fruits and vegetables were significantly associated with hyperuricemia only in men. Furthermore, a nonlinear dose-response association between the number of cardiovascular risk factors (CRFs) and hyperuricemia was observed. Compared with those having 0 CRFs, the full-adjusted odds ratios (ORs) and 95%CIs for 1, 2, and ≥ 3 CRFs were 1.76 (95%CI 1.25–2.47), 2.54 (95%CI 1.81–3.55), and 3.05 (95%CI 2.16–4.31) in men, respectively, and 2.13 (95%CI 1.43–3.17), 2.78 (95%CI 1.71–4.53), and 3.13 (95%CI 1.50–6.55) in women, respectively. Hyperuricemia is common in employees at high-altitude areas. However, working at higher altitudes does not mean necessarily higher risk of hyperuricemia, as dietary factors and clustered CRFs are more significant. Thus, workplace-based lifestyle modifications should be promoted.