01.12.2017 | Research article | Ausgabe 1/2017 Open Access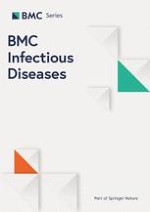 Prevalence of congenital cytomegalovirus infection in symptomatic newborns under 3 weeks in Tehran, Iran
Zeitschrift:
Autoren:

Mina Ebrahimi-Rad, Talayeh Seyed Shakeri, Fariba Shirvani, Kiana Shahrokhi, Nader Shahrokhi
Abstract
Background
Cytomegalovirus (CMV) is a common cause of congenital infection worldwide and infants with symptomatic congenital CMV (cCMV) infection are at significantly increased risk of developing adverse long-term outcomes. This study aimed to determine the prevalence of cCMV infections in symptomatic infants under 3 weeks in Tehran, IRAN and to evaluate the usefulness of serologic markers in these neonates.
Methods
Urine and serum samples of 100 symptomatic infants, under 3 weeks old, with clinical signs referred to Tehran medical centers from June 2013 to December 2014, were collected and tested for CMV-DNA and IgG/IgM antibody titers by PCR and ELISA, respectively.
Results
CMV-DNA was detected in urine of 58 cases, whereas only 20 cases had detectable CMV-IgM titers. All CMV-IgM positive cases excreted CMV-DNA through their urine. Of the 100 patients, only 59 had CMV-IgG antibody and CMV-DNA was found in the urine of only 40 of them.
Conclusions
We conclude that CMV is an important etiologic agent of congenital infections in symptomatic infants in Tehran, IRAN (prevalence: 58%) and CMV-DNA detection immediately after delivery is recommended for early treatment and reduction of post infection problems. Furthermore, our study showed that the serologic markers are unreliable for diagnosis of cCMV infection in infants. This is the first report of cCMV prevalence in symptomatic congenital infections in Iran showing similarity with the world averages.